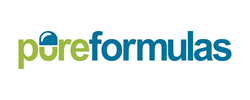 "Social media is vital for us on two fronts: it helps us interact with our customers, and also allows us to promote the benefits of a healthier lifestyle." PureFormulas CMO Daniel Moure
Miami, FL (PRWEB) January 26, 2015
PureFormulas.com has placed 336th among the 500 leading social media marketers in the US and Canada, according to Internet Retailer's just-released 2015 Social Media 500.
"We are pleased to be included among North America's most effective social media marketers for the third consecutive year," said Daniel Moure, Chief Marketing Officer of PureFormulas. "Social media is vital for us on two fronts: it helps us interact with our customers, and also allows us to promote the benefits of a healthier lifestyle."
Rankings for Social Media 500 are determined by the percentage of site traffic directly derived from Facebook, Twitter, Pinterest and YouTube. The 500 companies featured this year collectively grew their social commerce sales in 2014 by 26 percent to $3.30 billion, up from $2.62 billion—well ahead of the growth rate of e-commerce overall in the U.S.
About PureFormulas
Headquartered in Miami, FL, PureFormulas.com is a leader in the online health supplement space, distributing GMP-certified quality products, including dietary supplements, organic food, beauty products, sports nutrition supplements, and pet products, with an average of 400,000 active customers and 80+ service professionals. PureFormulas.com features a secure and friendly online shopping experience providing free shipping on more than 40,000 products. PureFormulas' professionals work with a board of healthcare advisors, naturopaths and chiropractors to keep up-to-date with customers' needs and healthcare trends. PureFormulas' mission is to maintain daily motivation and passion for healthy living, with a focus on high-level customer service and quality products. For more information on PureFormulas, please go to: http://www.pureformulas.com.
About Internet Retailer®
Internet Retailer is the world's largest publisher in the field of e-commerce. Through multiple print, digital and web-based publications and database services, they provide strategic and practical business information and original competitive research on e-retailing to more than 400,000 retail executives and direct marketers every month. Publications include the monthly Internet Retailer magazine, which has been covering e-commerce since March 1999, internetretailer.com and IRNewsLink, a daily e-mail newsletter. Internet Retailer also provides proprietary research on online retailing through its database, Top500Guide.com and its research guides, including the Top 500 Guide, Second 500 Guide, Top 500 Europe, Mobile 500, and Social Media 500.