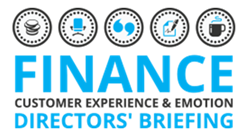 Coventry, UK (PRWEB UK) 21 January 2015
A team of the country's top Customer Experience experts will be joining forces for an exclusive Directors' Briefing where senior industry executives will have the chance to find out how improving Customer Experience can have a tangible impact on their company's bottom line.
Taking place on Wednesday 4th February from 9am until 12.30 at The Brewery in Chiswell Street, London, and hosted by customer engagement specialists, Rant & Rave, the free event will help senior customer experience executives understand how they can use customer emotion to their advantage.
Experts will explore why banking and insurance organisations are in a great position to understand and act on sentiment, how to benefit from both positive and negative emotion, how to capture the voice of your silent customers and why traditional surveying methods might be preventing you from discovering the true emotions of your customers, therefore eliminating the possibility of taking positive action.
Panellists include:

Jerry Angrave, formerly of Lloyds Banking Group and now an associate with Custerian
Martin Hill-Wilson, Customer Service, Customer Experience & Digital Business Strategist at Brainfood Consulting
Dennis Fois, CEO of Rant & Rave and former VP Cash/Liquidity Management at Barclays Bank
Merlin Stone, Marketing & CRM Expert
Dennis Fois, CEO of Rant & Rave says: "The aim of the Directors' Briefing is to shed light on 'the emotion of the silent majority'. We want to help senior finance execs and FDs to realise the potential in cracking into the minds of their customers and how best to do this. It should be an excellent, informative event – at a great location."
Senior executives interested in taking part can register at the Rant & Rave website here though places are limited and going fast.
About Rant & Rave
Rant & Rave (formerly known as Rapide) was launched in 2000 by Nigel Shanahan and is one of the UK's leading customer engagement specialists, counting half of the FTSE as clients.
Its multi-channel solutions let brands proactively communicate with and listen to the Voice of the Customer to manage and measure their experience. By providing solutions which are customer, not brand, centric Rant & Rave helps its clients to transform Ranters into Ravers and turn happy customers into lifelong advocates.
To find out more about Rant & Rave visit http://www.rantandrave.com.