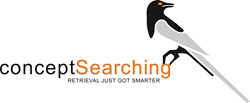 Concept Searching solution is now being used to support eDiscovery efforts for legal compliance.
McLean, VA, US and Stevenage, UK (PRWEB UK) 22 January 2015
Concept Searching, a global leader in semantic metadata generation, auto-classification, and taxonomy management software, and developer of the Smart Content Framework™, is pleased to announce that webinar registration is now open for 'Metadata Matters – eDiscovery at Nottinghamshire County Council'. This educational webinar is relevant to not only government but also any organization that faces challenges in eDiscovery, litigation, or non-compliance. The webinar will be held on Tuesday, February 10th, at 11:00am – 12:15PM EST.
This is the second in Concept Searching's 2015 'Metadata Matters' series of webinars, focusing on the customer and including guest speakers from diverse organizations and industries, who have deployed Concept Searching technologies to automatically generate business critical metadata to solve a variety of business challenges.
The session will explore how Nottinghamshire County Council improved information access and discovered one of the many processes that can be improved by the Concept Searching technology platform. Nottinghamshire County Council is the UK's 9th largest Council, with 18,000 staff, including 6,500 PC users. Lesley Holmes, Information Manager at the Council, will join John Challis, CEO and CTO of Concept Searching, to share why the technology was chosen and what it is being used for today.
Originally purchased to track information assets for the delivery of over 300 discrete services, the Concept Searching solution is now being used to support eDiscovery efforts for legal compliance. The flexibility of the technologies improves search outcomes by significantly improving the retrieval of highly precise and relevant information. This is particularly useful when information is scattered throughout the enterprise in diverse repositories. As a public sector organization, compliance with regulatory requirements and adherence to applicable laws are of paramount importance.
Nottinghamshire County Council and Concept Searching will discuss:

Why Concept Searching technologies and SharePoint were chosen
Challenges and outcomes
How the technologies are used today
The eDiscovery process at work
Why the Concept Searching technology platform was the solution that best met the Council's requirements
Plans for future uses of the technologies
Questions can be submitted when registering, and will be addressed during the webinar. Those unable to attend the webinar can still register, and will be sent the webinar recording and presentation.
This webinar has been designed for Business Process Owners, Records Managers, Legal, SharePoint Architects and Administrators, Office 365 and One Drive for Business Administrators, and Security Professionals.
About Concept Searching
Concept Searching is the industry leader specializing in semantic metadata generation, auto-classification, and taxonomy management. Platform agnostic, Concept Searching also has a Microsoft Gold Application Development competency, and offers a complete suite of SharePoint and Office 365 solutions. The award winning technologies integrated with Concept Searching's Smart Content Framework™ encompass the entire portfolio of unstructured information assets in on-premise, cloud, or hybrid environments. Clients have deployed the intelligent metadata enabled solutions to improve search, records management, identification and protection of privacy data, migration, text analytics, eDiscovery, and enterprise social networking applications.
Concept Searching is headquartered in the US with offices in the UK, Canada and South Africa.
About Nottinghamshire County Council
Nottinghamshire County Council is the 9th largest local authority in the UK employing 18,000 people, including those employed in schools.
The Council administers an annual budget of £504 million to provide cost effective public services to over 796,200 people in the County.
All product and company names herein may be trademarks of their respective owners.