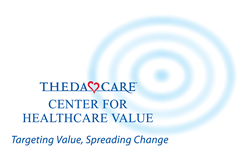 Appleton, Wis. (PRWEB) January 22, 2015
Valley Health joins healthcare leaders from more than 50 other systems across North America who share a commitment to providing high-quality, cost-effective care through the application of lean concepts.
"We're honored to welcome Valley Health as our first new member in 2015," said Mike Stoecklein, director of the network. "Through the member network, Valley Health has the opportunity to leverage innovative value-based processes on behalf of its patients."
HVN members benefit from:

Intensive site visits, known as gemba, at their colleagues' facilities.
Access to standard work templates, articles, webinars, videos, and other exclusive member resources.
The network's proven assessment methodology to gauge progress on their lean journeys.
Peer-to-peer discussions, relationships and learning opportunities through affinity groups on special topics and other methods.
"Our focus always has been on putting patients first and leading with innovative healthcare. Joining HVN is yet another way we provide the best care for our patients and grow healthier, together," said Jim Carty, director of management engineering at Valley Health. "We look forward to learning from other members, and in turn, sharing our knowledge with them."
Established in 2009, the network was founded by the ThedaCare Center for Healthcare Value and the Lean Enterprise Institute. It is now an integral part of the Center and its healthcare mission.
VALLEY HEALTH
Valley Health is a not-for-profit health system serving a population of 450,000 in northwest Virginia and the eastern panhandle of West Virginia. Valley Health includes six hospitals: Winchester Medical Center, a 445-bed regional referral center; Warren Memorial Hospital in Front Royal, Virginia; Shenandoah Memorial Hospital in Woodstock, Virginia; Page Memorial Hospital in Luray, Virginia; Hampshire Memorial Hospital in Romney, West Virginia; and War Memorial Hospital in Berkeley Springs, West Virginia. Additional services include physician practices, medical transport, Urgent Care centers, a retail pharmacy, and durable medical equipment stores. For more information, visit: http://www.valleyhealth.com.
THEDACARE CENTER FOR HEALTHCARE VALUE
The ThedaCare Center for Healthcare Value is an education institute that believes we must have three essential elements for sustainable change in healthcare: Delivery of care designed around the patient; payment and incentives based upon value and outcomes; and transparency of performance (quality and cost) throughout the healthcare system. Founded in 2008 and headquartered in Appleton, Wisconsin, we are a small not for profit with a big mission to help change the healthcare industry. Learn more at: createvalue.org.