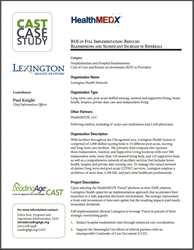 "Everything we did was designed and put in place to support our critical decision processes." - Paul Knight, Lexington Health CIO
Washington, DC (PRWEB) January 22, 2015
In the long-term care sector of the healthcare market, enterprise-wide implementation of electronic medical record (EMR) software is the proverbial road less-traveled. However, according to a case study recently released by the Center for Aging Services Technology (CAST), the approach can deliver widespread benefits within a short timeframe. Published by LeadingAge, the study highlights positive outcomes that include reduced hospital readmissions, added referral value and increased market share.
Lexington Health Networks is a privately held Chicago-area company that manages 2,000 skilled nursing beds, three assisted and supportive living facilities, as well as home health, hospice, private-duty home care and over 500 independent living units. To implement their newly purchased EMR software, they opted to pursue what Chief Information Officer Paul Knight calls a "modified Big-Bang" approach. Rather than a more-common phased method that begins on a limited scale and adds functionality over time, Lexington staff worked with Missouri-based software vendor HealthMEDX® to plan and build the system, then rapidly deploy the fully integrated solution across Lexington's 13 care locations.
"You have to put in the work up-front," Knight said. "We decided that if we were going to put in an EMR it had to be strong and secure, quick and easy for users. Everything we did was designed and put in place to support our critical decision processes."
During implementation of the HealthMEDX Vision® platform, Knight's team focused on enhancing resident care quality by increasing Lexington's interoperability with local acute-care providers. The resulting product included workflow processes specially configured for inbound patient transfers, care coordination benchmarks and tracking of clinical progress.
Those system capabilities have allowed Lexington to improve patients' outcomes and reduce the frequency of return hospital visits, a key metric tied to Medicare reimbursements. A low readmission rate is particularly important for referring acute-care institutions and physicians in their local market, where Crain's Chicago Business noted in August of last year that institutions were expected to be penalized at higher-than-average rates in 2015.
The study details how Lexington translated those reduced hospital readmission rates – in some cases to below half their market's average – into a strategic position as a preferred long-term care partner in the greater Chicago area. As a result referral rates have increased markedly, bumping Lexington's market share several hundred percent for some of their facilities.
HealthMEDX Vice-President Mary Beach oversees implementation strategies for the company's clients. She notes that switching an entire organization to an electronic record requires a detailed plan and careful execution, but is the quickest pathway to return on investment for EMR users.
"Achieving the type of benefits that Lexington is experiencing requires thoughtful set-up and senior leadership commitment through the rollout process," Beach said. "But our provider organizations see a dramatic impact on patient care, quality measures and workflow efficiencies."
To download the full case study, click here. For more on Lexington Health System, visit their website at http://www.lexingtonhealth.com. To learn about the HealthMEDX Vision solution for long-term, post-acute and home care providers, visit http://www.healthmedx.com.
# # #
LeadingAge is national association of non-profit organizations dedicated to serving the U.S. senior population. Its Center for Aging Services Technologies (CAST) seeks to expedite the development, evaluation and adoption of emerging technologies that can improve the aging experience.
Lexington Health Networks manages a comprehensive system of post-hospital, nursing and long-term care facilities, as well as home health, hospice and private-duty care services. The Chicago-based organization employs more than 3,000 health professionals across their diverse care settings.
HealthMEDX® is a leading developer of EMR solutions for providers in the long-term, post-acute, home care and hospice settings. Our integrated HealthMEDX Vision® platform streamlines clinical, financial and reporting for organizations of any size, while innovative mobile and analytics functions deliver operational value for end users, executives and physicians.