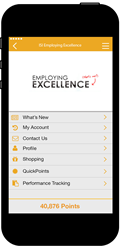 "The app makes sales claims quicker and easier, which will increase adoption rate and engagement levels." Mark Herbert, President of Loyaltyworks.
Atlanta, Georgia (PRWEB) January 23, 2015
Loyaltyworks.com is ringing in 2015 with new mobile incentive technology. The release of the Loyaltyworks incentive program mobile app marks the company's ongoing dedication to user engagement and seamless functionality. Online rewards programs will be easier to access for participants, making sales channel incentives and customer loyalty platforms part of their everyday mobile use.
In a 2013 article, Forbes forecasted that increasing mobile usage would lead to a more blurred line between business and personal affairs. Loyaltyworks incentive technology is designed to adapt to this fluid environment where free time and work are less defined. Today's employees are easily able to spend out-of-office time on their phones resolving issues or communicating with clients. With mobile use so prevalent, often it's painless to put in extra work time on a device associated with convenience and fun.
Loyaltyworks incentive programs can now translate effortlessly into the mobile environment. Multiple features turn Incentive Programs into an experience as valuable as it is portable. According to Mark Herbert, President of Loyaltyworks, "The app makes sales claims quicker and easier, which will increase adoption rate and engagement levels." The concepts of immediate access and instant reward go hand in hand. A sales team, for instance, is more likely to keep their claims and goals up to date when they are able to do so wherever they are. The app was also built to integrate with smartphone technology. A phone scanner could be used to capture a product barcode and purchase it in-store instantly or add it to a personal wish-list.
The standard features on every app include:

Enrollment so that that users participating in the incentive platform can register directly through their mobile device.
Saved Logins that bypass logging into the system each time.
Push Notification, so clients can communicate new promotions, goals, and acquired points.
Contact Us allows instant feedback and tech support.
Profile connects users to their personal information and point data on the incentive platform.
Quick Points allows users to access or input On-the-Spot awards instantly.
Shopping provides a catalog of all the products and perks participants can buy with their redeemed points—including electronics, event tickets, travel opportunities, and more.
Performance Tracking lets participants enter sales and claims wherever they are—at home, at work, or in the field.
Mobile and app usage has become part of the common person's everyday routine. Checking apps and social media in the morning or before bed, during lunch, at the gym, etc. is a standard way of juggling many activities and relationships. In 2014, Nielsen reported that people spend over 38 hours per month on their smartphones. The Loyaltyworks app uses rapid-fire mobile culture to bolster incentive participation. Company Chief Executive Officer Steve Damerow believes that "the app takes the uprising mobile usage trends and makes incentive programs two to three times more effective."
Based in Atlanta, GA, Loyaltyworks is part of The ISI Group (comprised of Incentive Solutions, Loyaltyworks,Travel Solutions), and provides online incentive programs and technology to help our clients track sales channel distribution, increase sales, foster customer loyalty, and instate employee reward programs.
The ISI Group purchased Loyaltyworks, a 30-year-old loyalty and recognition business, in 2009. To offer a better incentive solution to clients, Loyaltyworks now manages all of their reward programs with an online point-based merchandise reward platform. The platform is a flexible reward program management solution that offers point-based merchandise programs as well as reloadable or one-time funded prepaid debit cards.