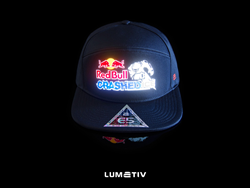 Los Angeles, California (PRWEB) January 21, 2015
LUMATIV, an innovative wearable technology company based in Los Angeles that specializes in designing and producing illuminated apparel is pleased to announce the release of its limited edition Red Bull Crashed Ice 2015 E5 snapback.
For the past three winters, Saint Paul, Minnesota has been home to Red Bull's Crashed Ice, an ice cross downhill competition. The event, which has seen crowds of more than 100,000 people converging at the Cathedral of Saint Paul to witness the high-speed action, features skaters competing in four-man heats in a race to the bottom of a 400-metre-long track full of obstacles.
The sport of ice cross downhill continues its residence in the 'State of Hockey' and continues to burst in United States popularity with its visit to the capital of Minnesota in 2015.
"As Red Bull is known for pushing the envelope with its marketing efforts, we believe it's fitting that they are one of our first major brand partnerships," said LUMATIV founder, Scott Campbell. "We consider working with the Red Bull team and brand to be a great honor, and we're looking forward to growing our relationship."
The cap, produced in collaboration with Red Bull, will be available exclusively for purchase on the event premises January 22nd - 24th, where official merchandise will be sold.
About LUMATIV
Founded in 2010, LUMATIV is an innovative wearable technology company based out of Los Angeles, California specializing in designing and producing illuminated systems for apparel and accessories. Taking over three years to perfect, LUMATIV developed a state of the art lightweight patent-pending rechargeable electrical system that can be easily embedded in almost any wearable item of clothing. All products and systems are artistically engineered and designed for seamless integration to ensure superior fit and comfort, providing an optimal experience for its customers and partners.
###