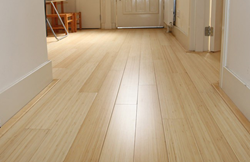 (PRWEB) January 22, 2015
Today, BambooFlooringChina.com, a famous bamboo flooring factory and exporter from China, releases its new models. The company also launches a site-wide bamboo flooring promotion for 2015.
According to the CEO of the company, bamboo flooring is the improved version of solid bamboo parquet. The CEO says, "From harvesting bamboo, to production, and final packing I make sure everything is manufactured according to the highest, most environmentally friendly standards there are. I personally oversee every plank before it leaves the factory."
He adds, "If you have any questions about bamboo, flooring or our quality control procedures send me a message. I look forward to hearing from you. I promise here to help our consumers worldwide to find a reliable bamboo flooring supplier so people can get high quality bamboo floors at affordable rates."
BambooFlooringChina.com intends to make more useful items for consumers across the world. It is selling more than 100 different kinds of great bamboo products on its website. True enough, all its items feature unique designs and affordable prices.
A bamboo flooring from the USA comments, "I will definitely be recommending your company as a great one for bamboo flooring, with good customer service. I am sure we shall be returning to your company in the future!"
About BambooFlooringChina.com
BambooFlooringChina.com has been making high quality bamboo products for many years. It is selling a wide range of bamboo products to the international customers: strand woven flooring, lumbers, outdoor decking, plywood, fences and so on. The company always strives to benefit all its old and new clients; its top designers are working hard to make more durable items.
For more information about its new items, customers can visit: http://www.bambooflooringchina.com/.