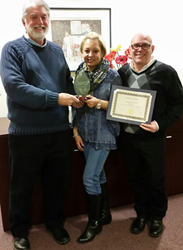 "We go out to the client's home or wherever they feel most comfortable and safe, since there is still social stigma associated with HIV/AIDS," said Steve Pitts, Medical Case Manager at VNACJ.
Red Bank, NJ (PRWEB) January 22, 2015
The Visiting Nurse Association of Central Jersey (VNACJ) Ryan White HIV/AIDS medical case management program was again presented with the annual Quality Recognition Award for medical case management and documentation. The award recognizes one agency from a field of sixteen across three New Jersey Counties that has demonstrated extraordinary quality in vital home-based HIV/AIDS services. This was the second consecutive year that VNACJ was recognized for this program.
"I'm proud of our case management team who every day, go above and beyond to care for our most vulnerable citizens," said Steven Landers, MD MPH, President and CEO of VNA Health Group. "Their work and this program demonstrate a commitment to our mission to deliver patient-centered care to people's homes, where they are most comfortable and safe."
"We are thrilled and honored that our team of professionals are being recognized for setting the standard for HIV Case Management and for providing on-going support to a population of people with ever changing needs," said Shannon Preston, MSW, LSW, Manager of Prevention and Care at VNACJ, who oversees the program. "Tapping into the clinical expertise and resources of VNA Health Group has also helped us to enhance the range of services we make available to these individuals who often are dealing with multiple health and emotional issues."
VNACJ is a member of Visiting Nurse Association Health Group and is one of sixteen agencies that operate the Ryan White HIV/AIDS Program, first authorized in 1990, and administered by the U.S. Department of Health and Human Services (HHS), Health Resources and Services Administration (HRSA), HIV/AIDS Bureau (HAB).
For more than two decades, VNACJ has operated the federally-funded program, which serves individuals who are diagnosed with HIV/AIDS, who are under-insured or uninsured and meet minimum income criteria. On any given month, our case managers care for more than 150 individuals who are living with HIV/AIDS while managing other chronic diseases.
Unlike most other HIV/AIDS programs however, the Ryan White HIV/AIDS Program allows us to treat clients at home and other community settings. Through visits to where each client lives, our case managers are better able to monitor their adherence to treatment, assess their overall health and well-being, assist with referrals to other health and medical services and provide emotional and other support.
"We go out to the client's home or wherever they feel most comfortable and safe, since there is still social stigma associated with HIV/AIDS," said Steve Pitts, Medical Case Manager at VNACJ. "Also, some can't afford transportation and are managing other serious health conditions. By visiting them at home, we help them limit their expenses and avoid health risks associated with being exposed to the elements."
"The face of HIV/AIDS is changing and getting older. The median age is mid-40s and by 2020 it will be in the mid-50s," said Pitts. "Our clients include people who are newly diagnosed, and those who have been HIV-positive for more than 30 years. The medication and treatment helps them to remain healthy and live longer."
About VNA Health Group
Visiting Nurse Association (VNA) Health Group is New Jersey's largest not-for-profit visiting nurse association and visiting physician service that help individuals and families achieve their best level of health and well-being by providing home health, hospice, palliative and community-based care and operating private-pay personal care services. A full range of primary-care services are available through VNACJ Community Health Centers. Our unique partnership model with health systems leverages clinical and technical resources to operate VNA of Central Jersey, Cape VNA, Robert Wood Johnson Visiting Nurses, VNA of Englewood, and Visiting Physician Services. Currently we employ more than 1,400 and each year, care for over 112,000 people. For more than 100 years, we have had a commitment to serving vulnerable populations such as children, older adults and those with disabling and chronic illness or facing end of life. For more information about VNA Health Group call 800.862.3330, visit http://www.vnahg.org and follow us on Twitter at http://www.twitter.com/VNAHealthGroup.
###