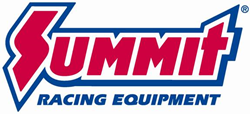 Tallmadge, OH (PRWEB) January 22, 2015
As awesome as the new Mustang is, Summit Racing can help owners make their vehicle perform even bettter We've been adding performance parts for the 2015 Mustang as fast as the manufacturers have shoved them out the factory doors. Here are just three of the products available now:
SCT Performance X4 Power Flash Programmer
SCT's X4 now comes loaded with tunes for the 2.3L Ecoboost and 5.0L Mustang. Using the 93 Octane tune and no other changes, an Ecoboost Mustang gained almost 14 peak horsepower and 48 lbs.-ft. of torque at the rear wheels; the 5.0L gained almost 23 peak horsepower and 19 lbs.-ft. of torque at the wheels. The programmer also has built-in Wi-Fi connectivity so you can download updates from SCT through a wireless network. You can also store custom tunes in the X4, do high speed data logging, and adjust vehicle parameters like WOT fuel curve, spark timing, shift firmness, and more.
Ford Racing Cat-Back Exhaust Systems
Made by Borla to Ford Racing's stringent specifications. The systems feature mandrel-bent, 300 series stainless steel tubing for reduced backpressure. The systems for the 2.3L Ecoboost Mustang have 2.25 inch diameter tubing and a Y-pipe; the 5.0L kits have 2.5 inch tubing and an X-pipe. All systems bolt directly to the factory catalytic converter so they are emissions-legal.
The Ford Racing Cat-Back Exhaust Systems weigh about 20 to 30 pounds less than the factory exhaust, and use the factory hangers for easy installation. The systems include mufflers with four inch chrome or black chrome plated tips. Axle-back systems with just the mufflers and tips are also available.
Airaid Synthamax MXP Cold Air Intake Systems
These cold air intakes feature a one-piece, roto-molded air box that replaces the factory air box and improves airflow around the Synthamax filter element. That reusable element can support up to 1,300 cfm of airflow and requires no oiling—when it gets dirty, just wash and return to duty. The large cross-linked polyethylene air intake tube—four inches in diameter at the throttle body for the 5.0L, 3.5 inches for the 2.3L Ecoboost—has a specially formed venturi to ensure accurate MAF sensor readings to maintain proper air and fuel ratios.
Product Link
Summit Racing Equipment
SummitRacing.com
1-800-230-3030