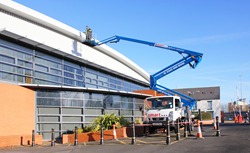 This year we're purchasing 20 new truck mounts, including 5 x CTE Z23JHs....
London, Greater London (PRWEB UK) 27 January 2015
Smart Platform Rental Ltd, the UK's largest provider of light truck mount self-drive rental platforms, has recently announced that it has taken delivery of the world's first Z23.2JH truck mounted cherry picker from the Italian manufacturer CTE. The platform illustrates perfectly the growing move by platform manufacturers to be able to provide robust platforms surpassing 22m (70ft) and yet still be able to be driven on a standard car licence!
The purchase cements a long standing relationship in the powered access industry. Andy Burt, Managing Director and founder of Smart comments "We've worked with CTE since we started in 2002. Their equipment makes up over 60% of our fleet We like the forward thinking nature of CTE and the continual evolution of their products in both performance and reliability. The new Z23JH slots right into our equipment line-up offering a greater knuckle height and practical fly jib solution on a true sub 3.5 tonne vehicle mounted package."
Lorenzo Cipriani, CEO and one of the founders of CTE commented: "We are very pleased that Smart have decided to choose our new 23m and 21m sigma boom lifts as an addition to their fleet. Smart is an expert in self drive platform rental and their choice shows that we succeeded to make the new products fit the needs of this highly specialized segment of the rental business, requiring user-friendly and reliable machines".
The purchase of the new Z23JH represents only a small part of Smart's overall investment in truck mounted access platforms. "This year we're purchasing 20 new truck mounts, including 5 x CTE Z23JHs and 5 x CTE Z21JH for growth with the remainder as part of the company's stringent replacement programme" explained Burt.