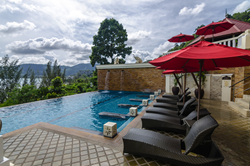 I am happy to say the virtual agent went live in about six weeks, enabling our client to provide smart help to their millions of guests.
Stamford, CT (PRWEB) January 22, 2015
A top international hotel chain is now live with Creative Virtual's V-Person self-service solution. The solution was deployed in less than 60 days to all 11 of the brands under the hotel chain's umbrella. Creative Virtual, a leader in customer self-service solutions for global enterprises, was chosen as the only vendor able to form an authentic holistic approach to effortless smart help across all pages, brands and modalities. Creative Virtual was identified as being the industry leader in its space and was chosen as a true partner with the brand.
This top hotel chain had a need to interact with its customers and provide relevant content, information and services regardless of time or device. Another focus was to deploy consistent answers across all channels for all 11 of the company's brands with the ability to access information via self-service or right channeling, with an escalation to a human representative available at any point in the interaction.
"We had a really aggressive timeline to go-live by the holidays," Richard Simons, CEO of Creative Virtual USA said. "I am happy to say the virtual agent went live in about six weeks, enabling our client to provide smart help to their millions of guests."
Creative Virtual was awarded the project in October 2014. Future plans for the program include utilizing natural language input to facilitate customer bookings, including reward member offers. Creative Virtual is also collaborating with the brand to incorporate the solution on a Mobile platform.
About Creative Virtual
Creative Virtual is a leader in self-service customer experience management solutions for enterprises. Global organizations like Verizon, E*TRADE, Autodesk, and Time Warner Cable rely on our technology to optimize their customer support, sales, marketing and call center teams, reduce costs, increase online sales, and achieve operational excellence across mobile, web, and social media channels.
Since 2004, Creative Virtual has built the most advanced technologies in knowledge management, natural language processing, and virtual assistants to help businesses deliver intelligent, personalized customer experiences that reduces email and call volume, builds brand loyalty, and increases customer engagement at a lower cost per conversation. Delivering accuracy of over 90%, our platform is the most compelling self-service product in the world today. For more information about Creative Virtual solutions, products and software, please visit our website at http://www.creativevirtual.com.