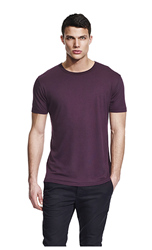 "Both TENCEL® and bamboo clothing is a very, very soft fabric and just looks and feels luxurious. Our clients use this fabric to visually stand out from the competitors and for the 'feel good' factor."
London, UK (PRWEB UK) 22 January 2015
During 2014, Garment Printing noted a 47 per cent rise in enquires from the previous year with a drastic increase in the demand of environmentally friendly printing techniques and products, something that they specialise in. Multinational corporate and start-up companies plus fashion houses were the most prevalent market sectors showing greater interest in personalised garments for re-sale, or for work-wear, using eco friendly printing and products. The most popular socially or corporately responsible fabrics chosen by their clients, was bamboo and TENCEL®.
30 per cent of corporate and socially responsible t-shirt printing, and customising work undertaken by the company during 2014, used water based screen-printing. Predominantly Heads of Corporate & Social Responsibility saw this technique for having with the lowest carbon footprint. In addition, this technique uses ecological friendly water based inks that are rapidly taken up into the garment's material. Embroidery and direct to garment printing orders processed shared 30 per cent interest on ecological fabrics and with DTG Printing, these also use water based eco friendly printing inks. Garment Printing fulfils all the six t-shirt printing techniques used in the market today and educates all clients that the t-shirt print quality and fabric colour determines the garment's final customising technique.
The majority of the completed t-shirting printing work was on the TENCEL® and bamboo fabrics from various ranges offered by ecological clothing manufacturer, Continental Clothing®. TENCEL® is a natural, man-made fibre that is also referred to as Lyocell. It is made with wood pulp from eco sustainable eucalyptus orchards and tree-farms. Many of the companies that placed orders during 2014 were surprised to discover that TENCEL® is produced in a closed-loop process. This means the process recovers or decomposes all solvents and emissions. In fact 99.8 per cent of the solvent used in the manufacturing process is recovered and re-used.
Eucalyptus trees are fast growing and later in their life, they need next to no pesticides, fungicides or herbicides. Bamboo on the other hand is super fast growing and thrives naturally without using any pesticides or fertilisers. In comparison to cotton, Bamboo has a higher yield. It uses just 10 per cent of the land required to generate the same as cotton.
Continental Clothing® who supplied 95 per cent of the ecological and fair-trade garments used by Garment Printing will be releasing new TENCEL® and cotton blend fabrics garment ranges aimed specifically at the male casual fashion market. Garment Printing is anticipating a higher interest in TENCEL® during 2015 as manufacturers have reacted well to feedback from printing companies to extend the male clothing ranges. Garment Printing stock these new ranges.
"We are really pleased that Continental Clothing® are extending their male range of clothing. This opens up greater possibilities to our IT and finance industry client business development. We have been waiting for more eco friendly male clothing from Continental Clothing® aside from their Earth Positive range, and we will be launching new targeted marketing campaigns in conjunction with the launch of their new TENCEL® range for men."
Commenting on the fabric and print technique orders by Corporate and Social Responsibility companies during 2014, Gavin Drake, director said, "Both TENCEL® and bamboo clothing is a very, very soft fabric and just looks and feels luxurious. Our clients use this fabric to visually stand out from the competitors and for the 'feel good' factor. Because both fabrics have excellent moisture absorbency in summer and pass on isolation in winter, they feel good on and comfortable, whatever time of year they are worn."

Notes To Editors
About Garment Printing
Garment Printing is an industry leading, full service customised clothing company. The company offers the latest in screen-printing, digital printing and embroidery services, providing unlimited bespoke customisation. With over 15 years experience promoting the value of brands, the company simplify the printing process, expedite turnaround times with its clients. Garment Printing is a trading company of Print This Print That Ltd.