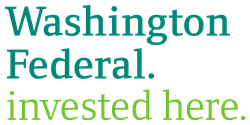 Seattle, Washington (PRWEB) January 21, 2015
The Board of Directors of Washington Federal, Inc. (NASDAQ-WAFD), today announced a quarterly cash dividend of 13 cents per share. The payout represents an increase of 2 cents, or 18%, over the prior quarterly dividend of 11 cents per share. Last quarter the Company increased the normal 11 cent payout for pro-ration over four months to 14.67. This included a 3.67 cent increase over the prior quarter dividend of 11 cents as a one-time payment in anticipation of a change in the schedule of quarterly payments and represents an additional one month's dividend income to compensate for the new schedule. The current dividend will be payable on February 16, 2015 to common stockholders of record on February 2, 2015. In the future, the board will consider declaring cash dividends in the months of January, April, July and October, for payment in February, May, August, and November. This will be Washington Federal's 128th consecutive quarterly cash dividend.
Washington Federal, Inc. is the parent company of Washington Federal, a national bank that operates 247 branches in Washington, Oregon, Idaho, Utah, Nevada, Arizona, Texas and New Mexico. Established in 1917, the bank provides consumer and commercial deposit accounts, insurance products, and financing for small to middle market businesses, commercial real estate and residential real estate, including consumer mortgages and home equity lines of credit. As of December 31, 2014, the Company reported $14.5 billion in assets, $10.6 billion in deposits and $2.0 billion in stockholders' equity.
# # #
Contact:
Washington Federal, Inc.
425 Pike Street, Seattle, WA 98101
Cathy Cooper 206-777-8246
cathy.cooper(at)wafd(dot)com