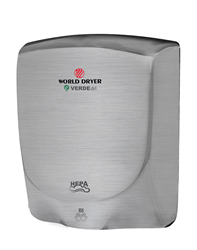 With all of the good, high speed dryers on the market today, the jokes about wiping hands on pants are fading fast.
Huntersville, NC (PRWEB) January 22, 2015
With an order for ASI stainless steel soap dispensers to the Polk County Board of Commissioners in Winter Haven, FL, Restroom Direct today achieved the milestone of 25,000 orders since its inception in 2008.
"We have had a great amount of success over the past 7 years," said Chris Berl, President of Restroom Direct. "And we owe that success to our many customers who have put their faith in us. They have seen the value that we provide and, like the Polk County Board of Commissioners, they come back to us time and again. We have the best employees in the industry who work hard every day to make Restroom Direct as helpful as possible to our customers."
"We have been buying hand dryers from Restroom Direct since 2012 and we always appreciate their quick service and good prices. We'll continue to use them in the future," said David Dix of Polk County.
Restroom Direct sells fixtures and accessories for commercial restrooms. "Pretty much anything that goes on a wall in a commercial bathroom we sell," explains Mr. Berl. "We started the business focused on hand dryers. That is my expertise and our employees are hand dryer experts. We don't just take orders. We work with our customers to get the best product for them." Restroom Direct sells to schools, offices, health clubs, restaurants and other commercial businesses.
Now occupying three warehouse spaces in Huntersville, NC Restroom Direct has expanded significantly since opening in 2008. In the last year alone, the company has added three employees. The hand dryer industry has changed and grown during the same period of time and Restroom Direct stays on the leading edge when it comes to new and better product offerings. Dyson, for example, has significantly expanded its line of Airblade hand dryers in the past couple of years. In 2013 they upgraded their popular hands-in dryers with the quieter AB14 which they call the dB to emphasize the reduction in noise levels. In the same year they introduced their first on-the-wall hand dryer with the ADA compliant AB12 which is called the "V," named after its shape. And Dyson is now offering all of their dryers with 120 volt units as well as 208 to 240 volt versions.
The four-inch-depth, ADA-compliant hand dryer has experienced a boom in new offerings with the introduction of the Verdedri, coming soon from World Dryer, and another expected new product coming from Excel Dryer, famous for the jet-blasting Xlerator hand dryer. The Xlerator also expanded its offerings last year with the Xlerator Eco energy efficient hand dryer. Bobrick has their new 4" hand dryer as does Fast Dry. Michigan-based American Dryer has also been shaking up the industry with their introduction of Cold Plasma Clean hand dryers. The Extreme-Air CPC is said to kill germs while drying hands. This type of ionized-technology, along with filters used by other manufacturers are turning the tide for hand dryers in the never-ending "who is more hygienic?" battle with the paper towel industry.
"The hand dryer manufacturers have really stepped up their game in the past few years," said Dave Klett, Director of Business Development at Restroom Direct. "With all of the good, high speed dryers on the market today, the jokes about wiping hands on pants are fading fast."
"It can't be fast enough for us!" chimes in Berl.
In addition to hand and commercial hair dryers, Restroom Direct sells paper towel dispensers, soap dispensers, mirrors, partitions, toilet paper dispensers, grab bars, baby changing tables, the Suitmate Water Extractor, Elkay water fountains, Footpull hands-free door opener and other products. Visit Restroom Direct on the web at http://www.restroomdirect.com. Restroom Direct's full line of hand dryers can be found on their http://www.restroomdirect.com/hand-dryers.aspx page.