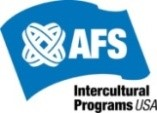 New York, NY (PRWEB) January 21, 2015
AFS-USA is pleased to announce the recipients of this year's Top AFS School Award. High schools honored with this award have demonstrated the importance of fostering global competency in their students. Selected from around the country, these schools are making a profound difference in the lives of students and the community at large. The complete list of Top AFS Schools is available.
"We're proud to be partners with these exceptional schools and look forward to further collaboration with their excellent administration and staff in bringing intercultural learning opportunities to their students," says Tonya Muro, Director of School Outreach and Educational Partnerships. "The ability to speak another language, navigate in a different cultural context, and marshal a global perspective are critical skills that today's students need to succeed in our increasingly interdependent world."
The award includes the opportunity for the students of the winning schools to compete for $1,000 scholarships to any 2015 AFS study abroad program. To enter the Top AFS School Scholarship competition, students must address this question: "What does it mean to be a global citizen?" Entrants must submit a photo, illustration or video along with a 250-word essay. This competition is open to all winning schools—past or current. Entries and completed study aboard applications are due by April 1st. Details here: http://www.afsusa.org/study-abroad/scholarships/top-school/
Join us in congratulating these schools for all they have done in the realm of international education and global learning.
About AFS
AFS (formerly the American Field Service), a worldwide, nonprofit organization, has been leading international high school student exchange for more than 65 years. Each year, AFS-USA sends approximately 1,000 US students abroad, provides $3 million in scholarships and financial aid, and welcomes 2,300 international high school students who come to study in US high schools and live with host families. More than 5,000 volunteers in the US make the work of AFS possible.
###
Contact:
Dr. Tonya Muro
Director of School Outreach &
Educational Partnerships
1.646.751.2145
tmuro(at)afsusa(dot)org