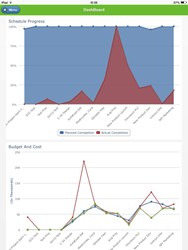 Solid growth in new customer additions and consistent renewals since last couple of years is strong evidence that ZilicusPM - our project management solution is delivering positive impact with improved profitability and productivity
Wilmington, DE (PRWEB) January 26, 2015
Zilicus Solutions today announced the launch of its latest enterprise project management software – ZilicusPM. It has also reported three digit year-on-year growth in terms of top line, new customer acquisitions and subscription renewals.
Need for Unified Project Management Solution
Enterprise teams need a unified solution to manage projects, portfolio, time tracking, cost control, resource management, documents and collaboration stronger than ever. Growing adoption of ZilicusPM by customers across industry verticals has proven the need of such unified project portfolio management software.
New ZilicusPM project management software enables businesses to manage complete lifecycle of a portfolio of projects. It offers enterprise grade capabilities to monitor and manage project resources, costs & timelines. These advanced capabilities include resource capacity planning, refined work assignment, portfolio reporting and management, Gantt chart with inline editing of schedule, project budget, billing and cost control and so on.
More Productivity with Enterprise Ready, Mobility features : some of the key capabilities introduced in ZilicusPM project management software are

Native app for iPhone, iPad and Android based smartphones & tablets
Advanced Resource Management Capabilities
Greater Project Financial Control and Management
Project Portfolio Management and Reporting, Inline Editing of Schedule and seamless Email Collaboration
International Customers Embracing ZilicusPM
ZilicusPM solution has introduced support for international languages in order to make it simpler for customers using their native language, ZilicusPM interface is now available in Polish, German and Spanish languages.
About Zilicus
Zilicus Solutions is a global leader in project portfolio management & project management software. It helps enterprises become more productive and profitable. Its award winning project management tool – ZilicusPM is rated among 10 best project management software tools in the world and is used by customers in more than 100 countries globally across various industry verticals. To know more visit http://www.zilicus.com, take a video tour and signup for 30-days free trial https://projects.zilicus.com/Signup.jsp