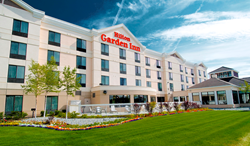 Anchorage, AK (PRWEB) February 06, 2015
As Anchorage gears up for one of the most exciting events of the year, the Hilton Garden Inn Anchorage hotel is preparing to welcome guests with superb accommodations. The 125 room hotel has everything needed to make guests feel at home during the ten day festival. From plush bedding with crisp linens and soft down pillows to the onsite restaurant, serving a variety of beer, wine and cocktails in a relaxing setting, the Hilton Garden Inn Anchorage is excited to welcome guests to Anchorage for an unforgettable stay and event.
Make a reservation today and experience all this award-winning hotel has to offer. Reservations can be made by calling the hotel directly at (907) 729-7000 or by visiting the hotel's website at http://www.HGIhotelanchorage.com.
Close to the best Anchorage has to offer, the Hilton Garden Inn Anchorage hotel is an ideal destination for business and leisure travelers alike. Guests enjoy easy access to recreational activities like golfing, hiking, fishing as well as local dining and shopping. The hotel is also in close proximity to British Petroleum-BP Exploration, Providence Alaska Medical Center, ConocoPhillips, Arctic Slope Regional Corporation, Alaska state government offices and JL Tower. Hotel amenities include a free shuttle service to assist with Anchorage transportation needs, plush bedding, flat-screen HD televisions with premium channels, free high-speed Internet access, flexible event spaces, indoor pool and whirlpool, 24-hour business center, and on-site fitness facility. The Hilton Garden Inn Anchorage hotel is proudly managed by Stonebridge Companies in Denver, CO.
Founded in 1991 by Navin C. Dimond, Stonebridge Companies is a privately owned, innovative hotel owner, operator and developer headquartered near Denver, Colorado. The company's current portfolio entails 45 hotels with over 7,000 rooms nationwide. This diverse portfolio includes select-service, extended-stay, mid-scale and full-service hotels in markets throughout the U.S. For detailed information, visit our website at http://www.SBCOS.com.