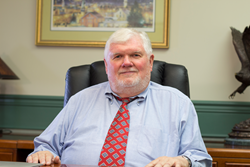 The center will offer exciting and endless possibilities as we find new ways to enhance the education of our students in the health and science professions, promote healthy living, and improve community wellness
Takoma Park, Md. (PRWEB) January 22, 2015
Plans for a new Washington Adventist University (WAU) Health Professions, Science and Wellness Center in Takoma Park, Md. were advanced recently when health care executive and board member Bruce Boyer presented a $1 million check for the project at a meeting of the WAU Board of Trustees.
"This generous gift will go a long way toward making the vision for a new Health Professions, Science and Wellness Center a reality," said WAU President Weymouth Spence, Ed.D., R.T. "The center will offer exciting and endless possibilities for this university as we find new ways to enhance the education of our students in the health and science professions, promote healthy living, and improve community wellness."
The center will be built as a $10.3 million renovation and addition to the existing Health Professions Building on campus. When completed, the 50,000-square-foot center will accommodate WAU's health professions and science programs, as well as community programs to enhance wellness. It will provide opportunities for the university to partner with the city and county in offering healthy cooking and exercise classes, among other wellness activities. The architect for the project is Hord, Coplan and Macht.
Boyer, who is president and chairman of Sloan Management, Inc. and Premier HealthCare, Inc., has a unique perspective on Washington Adventist University. He spent time on campus as a child in the 1950s when his parents attended the university, then known as Washington Missionary College; in the 1960s when he was a psychology major at the school, then known as Columbia Union College; and in the 1970s, when he joined the university's board of trustees, then known as the Columbia Union College Board of Trustees.
In addition to Boyer's recent gift, the new center is being funded through the university's annual Visionaries Gala, along with support from the state of Maryland through a $4 million matching grant from the Governor's Office. The grant application is being completed and funding approval is expected this year.
Individuals interested in contributing to the new facility are encouraged to email alumni(at)wau(dot)edu or call 301-891-4151. Online donations can be made at http://www.wau.edu/alumni/give-to-wau .
# # #
Washington Adventist University is Montgomery County's only four-year private college. Part of the Seventh-day Adventist system of higher education, Washington Adventist University has been educating college students since 1904 on a 19-acre campus in suburban Takoma Park, close to the nation's capital. A total of 1,080 students of all faiths participate in the university's eight graduate and 32 undergraduate programs. The 2014 edition of U.S. News & World Report ranked Washington Adventist University among the best regional colleges in the north.
Media Contacts:
Angie Crews, 301-891-4134, acrews(at)wau(dot)edu
Donna Bigler, 240-286-1169, dbigler(at)wau(dot)edu