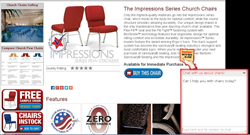 This will enable our customers and potential customers to deal directly with the one person that will walk them through whatever seating need they have, says Robert Wiltsey
Chino, CA (PRWEB) January 22, 2015
Bertolini Sanctuary® Seating is excited to introduce a live chat feature to their website. Their motivation is to benefit their customers and potential customers by being available to assist them on the spot at the customer's convenience. The customer is able to multi task by browsing, shopping and chatting all in one visit. Not only does Bertolini Sanctuary® Seating feel that is an effective way to talk and assist customers but it is also rewarding to their product specialists to be able to solve a customer's question, concern or problem.
Since relationship building with their customers is extremely important, Bertolini Sanctuary® Seating has created this great opportunity to expand their customer service to their customers by providing immediate assistance and answers. Their goal is to increase and build the customer's trust and confidence in their products and services. A product specialist can be contacted directly by a customer in each region of the United States. The regions are Pacific, Midwest, Central, Northeast and Southeast. The product specialists at Bertolini Sanctuary® Seating encourage their customers to take advantage of the live chat that is now available at http://www.sanctuaryseating.com.
"As part of our 2015 initiative to achieve 100% Customer Satisfaction, we are connecting our Chat service on our church web site directly to the Product Specialist in each region. This will enable our customers and potential customers to deal directly with the one person that will walk them through whatever seating need they have. This is just another way Bertolini continues to be the market leader in stackable church seating", says Robert Wiltsey, Director of Church Sales, Bertolini Sanctuary® Seating.
Bertolini Sanctuary® Seating is a design leader in the use of ergonomically correct chair design and its Flex fit seat design technology for churches. Their chairs are light and strong. Their expertise in the manufacture of quality stackable seating and commitment to superior customer service wins the appreciation of congregations worldwide. To find out more, visit http://www.sanctuaryseating.com.