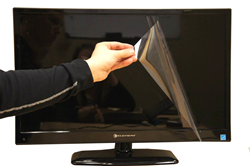 Atlanta, GA (PRWEB) January 22, 2015
Training Film LLC today introduced their newest innovation, TV Sport Coach, a high-tech protective film with dry erase properties that easily transforms various size TV screens and I-Pads into writing surfaces. Combining the latest advances in silicone technology with dry erase properties, TV Sport Coach offers athletes, coaches, parents and ultimate sports fans the ability to draw directly on their TV to review film from games, practice or their favorite sports team. TV Sport Coach has no wires, no expensive gadgets or learning curve; simply lay it over your TV screen and safely use dry erase markers to write. The patent-pending design is the first product in the world that allows you to write on your TV with dry erase markers and can be easily applied and removed multiple times. With packages starting at $19.99 it is available to all sports enthusiasts.
"TV Sport Coach is a game changer in allowing athletes, coaches and parents at all levels to combine visual and verbal communication when explaining their point to athletes," said John Kucek, president of Training Film, LLC. "It's about perfecting yourself and becoming a student of the game."
In addition to the high-tech protective film, every order will include the following free items: two dry erase markers, a microfiber towel, refining cloth, bubble removal card and instructions. Please visit http://www.TVSportCoach.com for complete details and ordering information.
###