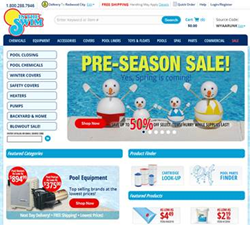 "DSS Partners has delivered two highly functional and engaging Commerce sites that fully support our ability to merchandise and market to both new and existing Customers."
Schaumburg, IL (PRWEB) March 03, 2015
Chicago based Swimming Pool Supply Organization Extends eCommerce Capabilities to Optimize Revenue and Customer Satisfaction.
In less than six months, DSS Partners provided In The Swim with two Responsive Web Design (RWD) sites which leveraged the DSS Partners Accelerator Store and Oracle Commerce's multi-site capabilities. DSS Partners implemented Oracle Commerce for http://www.intheswim.com in October 2014, followed one month later by the launch of http://www.poolcenter.com. "DSS Partners provides clear transparency to my team by providing demo's throughout the project," said Steve Druckman, CEO of In The Swim.
The PoolCenter site was migrated from a competing platform. "DSS Partners is an integral partner in the implementation of our consumer commerce channel", claimed Druckman. "Their deep Oracle Commerce and industry knowledge paired with their Oracle Commerce Accelerator Store reduced our implementation and re-platforming risks while keeping our project on schedule. It allowed us to catch the tail end swimming season".
DSS Partners collaborated with Spark::red to Host In the Swim's new Oracle Commerce Solution.
In The Swim" will be migrating three additional sites to Oracle Commerce. DSS Partners is accelerating their deployment in advance of Spring 2015 to enable their growth during the peak pool supply season.
"We were really impressed by the commitment and knowledge of the DSS Partners team. It was very clear to us that we were going need a partner that could run fast with us to launch our sites. It was critical to us to quickly implement changes and improvements to the sites, after launch and DSS Partners delivered." said Christine Matson, CMO of In The Swim
Facts:

Oracle Commerce was selected in May 2014.
Accelerated Full Lifecycle Deployment: In less than six months, in advance of the holidays, by leveraging the DSS Partners' Oracle Commerce Accelerator. The Accelerator includes platform capabilities for Direct Marketing Source Codes, Personalization, Promotions & Integrations as described below.
SEO & Guided Navigation: Oracle Commerce driven navigation and sitemap, the Content is maintained in Oracle Commerce Experience Manager via Cartridges.
Multichannel Implementation: Includes mobile, mobile apps, and social integrations such as Facebook and Twitter.
Responsive Web Design: Provides an optimized mobile web experience and shopper engagement across multiple devices which the former PoolCenter and In The Swim eCommerce sites did not have previously.
Menu customization: Client can control both sites Navigation via Oracle Commerce Experience Manager . An example would be to add non-catalog hierarchy such "Winter Kits". Any page or hierarchy can be added to the menu.
Oracle Commerce/Content Acquisition System (CAS) integration: Accelerated the time to market to deliver the solution quicker. Also, set up multiple guided search applications so that In the Swim can have a different Browse Search experience for each site and manage it via the Business Experience Manager tools.
Custom Configurators: DSS Partners developed custom configurators such as Pool Liners, Pool Parts Finders and a Water Testing configurator that brings the customer to specific products for purchase.
Integrated with Custom Back End Legacy System: Real Time Inventory call and enterprise message bus used to send orders to "In The Swim's" backend system. Complex data migrations of previous sites.
DSS Partners is a Gold level member of Oracle PartnerNetwork (OPN). To read more about the In The Swim projects and how DSS Partners can assist your organization with its Oracle Commerce initiatives visit http://www.dss-partners.com or call 1-800-640-5877.
About DSS Partners
DSS Partners is an eCommerce business and technology consulting firm. Our work encompasses firms from Fortune 50 to Fortune 1000 companies representing leading names in Retail, Manufacturing and Distribution. Our technology experience includes Oracle Commerce, hybris and Magento. We give clients our experience, recommendations and thought leadership to help solve their biggest challenges and deliver on their business objectives. At DSS Partners, it's not just about meeting expectations - it's about exceeding them. DSS Partners is headquartered in Schaumburg, IL and has an office in Chennai, India.
Trademarks
Oracle and Java are registered trademarks of Oracle and/or its affiliates.