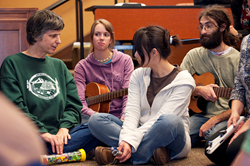 Portland, Oregon (PRWEB) January 22, 2015
The field of music therapy is growing, and Oregon's Marylhurst University (located just 10 minutes south of Portland) is addressing the demand for highly qualified music therapists by launching one of the N.W. region's first music therapy master's programs. Approved by the American Music Therapy Association and North America Schools of Music, the program starts classes this September, and is now accepting applications for the fall cohort.
The new program augments Marylhurst's respected Bachelor of Music Therapy degree. Both programs are led by Laura Beer, Ph.D., MT-BC, ACMT and taught by faculty who are practicing professionals and respected scholars in music therapy.
The two-year master's program offers extensive education in music therapy theory, clinical practice and research. In addition, the program is designed to educate therapists to better serve specific populations, such as multicultural and aging clientele.
The master's program is also designed to meet the needs of working professionals, with many classes offered evenings and weekends. Plus, students are able to specialize their degree with four, optional specialty tracks: business, counseling, gerontology or interdisciplinary studies.
Qualified applicants to the M.A. in Music Therapy must either hold the MT-BC designation, be eligible to sit for the CBMT exam, or be in an internship. Those not yet qualified may apply to one of two programs: a one-year preparatory program for students with a bachelor's degree in a music major, or for non-music majors, the two-year Bachelor of Music Therapy equivalency program.
Application deadline is March 15, 2015.