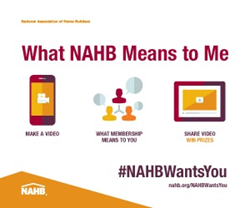 Atlanta, GA (PRWEB) January 22, 2015
Take time to spread the word about NAHB membership. There are prizes invoved! Developed in conjunction with mRELEVANCE, the "What NAHB Membership Means to Me" video contest will run through Friday, Feb. 13, 2015. Members can create and submit videos that are 45 to 60 seconds long for a chance to win gift cards and an opportunity to appear in the 2015 NAHB membership campaign.
Watch this fun video, "NAHB Wants You," at http://www.youtube.com/NAHBTV to learn more about the contest from fellow members, NAHB staff and "Pitbull." Then, follow these easy steps:
1. Make a video describing what membership means and why others should join. Make it entertaining or serious, sing a song, do a dance or even write a poem. Create it solo or with a group of NAHB members. Just make sure that each video is original.
2. Create a video, post it to YouTube with #NAHBWantsYou in the title or description, and complete the submission form at NAHB.org/NAHBWantsYou by Feb. 13. Make sure to share it on social media too!
Videos will be judged in the following categories:

Most Viewed Video
Most "Liked" Video on Facebook
Most Creative Video
Most People in a Video
Best Video from an HBA (groups only)
Best Video from a Council (groups only)
To get a head start, be sure to stop by the NAHB recording booth at the International Builders' Show on Thursday, Jan. 22, 2015. The booth will be located at the Member Advantage Headquarters in the Central Concourse.
The NAHB will announce the top videos, one individual and one group winner from each category, via social media by February 20, 2015. For additional information, visit NAHB.org/NAHBWantsYou.
*This contest is in no way sponsored, endorsed or administered by, or in association with Facebook, Twitter or YouTube. To enter, load a video to a local home builder association's YouTube account or personal account, and complete the form on http://www.NAHB.org/NAHBWantsYou. For an alternate entry method, send videos and first name, last name and email address by email to bgoldmerstein(at)nahb(dot)org, or on a disk or USB flash drive by registered mail to 1201 15th Street NW, Washington, D.C. 20005. Information is believed to be accurate but is not warranted. Subject to error, changes, omissions and withdrawals without notice.