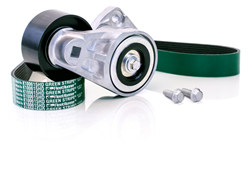 Gates will be offering demonstrations of hydraulic hose crimping with their portable PowerCrimp® 707 crimper.
Denver, CO (PRWEB) January 22, 2015
The Automotive Aftermarket division of Gates Corporation, a leading manufacturer of industrial and automotive products, is pleased to announce it will be participating in Heavy-Duty Aftermarket Week at The Mirage Hotel and Casino in Las Vegas, January 26-29.
Gates is proud to announce the release of all-new FleetRunner® Micro-V Belt Enhancement Kits. These specialized kits offer complete solutions for application-specific and troublesome accessory belt drive systems. Kits include a FleetRunner Micro-V Belt, updated heavy-duty tensioner and exact fit mounting bolts to ensure that prematurely failed systems can be entirely restored, reducing overall fleet operational costs.
In an effort to support the growing hydraulics category, Gates will be offering demonstrations of hydraulic hose crimping with their portable PowerCrimp® 707 crimper. Easy to use and extremely precise, it can handle low-pressure return lines all the way up to extremely high-pressure spirals, all at the push of a button.
HDAW attendees can stop by booth 615 to learn about these exciting offerings, and enter for a chance to win a brand new Yeti Tundra 65 cooler.
For more information, please contact Flloyd Sobczak at 303-744-5191.
About HDAW
HDAW is a four-day, multi-faceted, executive business conference specifically tailored for independent HD Distributors and their suppliers. HDAW uniquely incorporates several beneficial elements for business development by combining expert presentations, discussions, educational seminars, over 1,600 pre-arranged supplier/distributor one-on-one meetings and a world-class product expo.
About Gates Corporation
Gates Corporation is a global, diversified industrial company that provides advanced power transmission and fluid transfer solutions by engineering products and services that reduce the total cost of ownership for a wide variety of applications. Our products and services serve customers in five key end market segments: Energy/Exploration/Extraction, Infrastructure & Agriculture, Transportation, Automotive, and Process & Specialty.
As an engineering leader with a strong foundation in research and development, Gates is committed to advancing the science of motion performance by developing safe, forward-thinking products, services, systems, and solutions, as well as fostering long-term customer and employee relationships. Headquartered in Denver, Colorado, Gates employs over 14,000 people across 106 locations in 30 countries.
If it moves you, there's a good chance Gates has a part in it. Gates. Powering Progress.