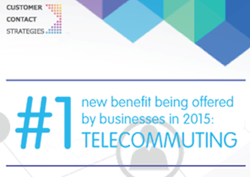 This conference is always well worth the investment. The scope of talent and experience is so deep
Dallas, TX (PRWEB) January 26, 2015
Verizon, Williams-Sonoma, American Express, McKesson, BCBS, Kaiser Permanente, Egencia and Hilton Worldwide all have work at home programs in place for their contact centers, and many have enterprise-wide mobility initiatives underway to align with their employees' growing interest in flexible working arrangements.
Understanding what others are doing in terms of telecommuting options, work schedules, engagement platforms, business process revisions and policy adjustments helps businesses level-set their current state, and broadens the perspective on what's possible for continuous improvement.
The 2015 Remote Working Summit is packed with content and subject matter experts that have a stake in their program effectiveness. Their roles, and their experiences, are extensive.
The Summit leadership includes program owners from financial services, healthcare, consumer products, travel, professional services, and technical support.
Content is shared through these high value exchanges at the Summit:

40 point flexible working benchmarking survey with results shared at the Summit
Five case studies on telecommuting and work at home for contact centers
Seven small benchmarking meetings on high interest topics
Twelve innovative technology and service providers
Next generation remote working via BPO panel of experts
Registration is $1495 for the first attendee and $1295 for additional attendees. The conference agenda is available here.
"There are so many high impact telecommuting strategies in play today - many of which deliver better results than office-based jobs" says Michele Rowan, President of Customer Contact Strategies, host of the Summit. What's interesting is the pace of change and speed to market - what was difficult to accomplish last year - can be done with ease this year."