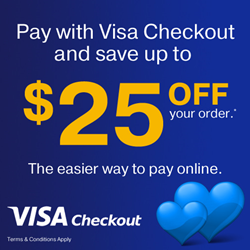 Edison, New Jersey (PRWEB) January 22, 2015
BuyDig.com, the Internet's #1 Digital Superstore, has partnered with Visa Checkout to bring great savings and much love to their customers during this romantic season. Until January 29th, customers making purchases at BuyDig.com using the Visa Checkout payment method can use special coupon codes during checkout to save money on qualifying orders. This is just one of the ways that both BuyDig.com and Visa are showing their love for their customers and their business.
Customers wishing to partake in this offer can get $15 off a qualifying $100 order using the code "VISADAY15" or can take $25 off a qualifying order of $200 with the code "VISADAY25." Those interested in saving big should check out this information page to see if their planned purchases will qualify for these offers. Also, interested parties should act fast as these savings will fly away like Cupid come January 29th.
Be sure to keep an eye out on BuyDig.com's Facebook page as well as their other channels for more offers like this in the future. BuyDig.com is always looking for great, fun, and creative ways to help their customers live large without taking a hit to the pocket book. Additionally, BuyDig.com loves to stay on top of the trending tech news and keep their friends and fans informed via their blog. So, anyone who is interested in hearing about the latest tech topics or even big news in television and movies or other popular culture-meets-tech stories should be sure to bookmark their blog and check back regularly for informative articles.
BuyDig.com is the Internet's #1 Digital Superstore for a reason and offers like this deal with Visa Checkout is just one of many of them.
About BuyDig:
BuyDig.com is a privately-held and operated online retailer based in Edison, New Jersey. Founded in 1983 under its parent company, Beach Trading Co. Specializing in selling digital cameras, electronics, computers, tablets, audio/video, home and garden, kitchenware, luggage, sporting goods, fitness trackers and more, BuyDig has worked diligently to become the Internet's #1 electronics superstore. BuyDig partners with many of the major CE manufacturers such as Canon, Samsung, Sony, HP, Lexar, and Cuisinart to make consumer technology and electronics affordable and available to the widest market possible. BuyDig also offers free shipping as well as a 45-day return policy on items purchased from their store. By combining legendary customer service with a philosophy of providing more for less, BuyDig.com has earned its reputation as the premier destination for consumer electronics.