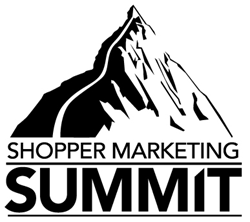 Chicago, IL (PRWEB) January 26, 2015
The Path to Purchase Institute has announced the general session keynote speakers for the 2015 Shopper Marketing Summit to be held in Schaumburg, Ill., March 16-18. This unique educational conference for leaders in the shopper marketing industry provides senior-level marketers and retailers with collaborative solutions and actionable strategies that influence decision-making along the path to purchase.
The full schedule of symposiums and breakout sessions covering topics including omnichannel marketing, ROI, mobile marketing and digitally integrated solutions is anchored by three general session keynote presentations featuring six keynote speakers from these leading retailers and industry partners:
"Albertsons/Safeway: The Way Forward" presented by
Karen Sales, Director, Shopper Marketing, Albertsons
"How Shopper Insights are Transforming U.S. Health Care Retailing" presented by
Judith Sansone, SVP, Merchandising, CVS Health
Wendy Liebmann, CEO, WSL/Strategic Retail
"Family Dollar: The New Value Equation" presented by
Jocelyn Wong, CMO, Family Dollar
Michael Miller, EVP, Catapult
Other speakers include executives from Mars Chocolate, The Coca-Cola Co., World Kitchen, MillerCoors, Kraft Foods Group, Intel Corp., Kimberly-Clark Corp., Energizer Personal Care, Bank of America, FCB/RED, The Clorox Co., Dell Inc., The Kellogg Co., William Wrigley Jr. Co., Unilever, and Mondelez International.
The Shopper Marketing Summit also hosts high-level decision makers from top retail chains as part of its Retail Academy initiative. Approximately 30 senior executives from roughly 15 top retailers will attend Summit as delegates of the Retail Academy in order to meet with progressive brand manufacturers and develop more sustainable and impactful shopper marketing programs.
On Mar. 17, 2015, the Summit will present the Shopper Marketing Celebration, an evening of recognition for the most effective shopper marketing campaigns and top talent in the shopper marketing industry. It begins with the presentation of the 2015 Shopper Marketing Hall of Fame class, an honor bestowed upon three individuals chosen by the editors of Shopper Marketing magazine. This year's inductees are Dirk De Vos, SVP, commercial marketing, Heineken; Amy Dragland-Johnson, director, shopper marketing, SC Johnson & Son; and David VanderWaal, US head of marketing, home appliance/consumer electronics, LG Electronics. In conjunction with the Hall of Fame ceremony, Neal Davies, president & CEO of Effie Worldwide, and Andy Murray, SVP, creative at Walmart, will present the winners of the 2015 Shopper Marketing Effie Awards.
For more information about the Shopper Marketing Summit and to register, visit http://www.ShopperSummit.com. Early bird discounted rates are available through January 30.
The Path to Purchase Institute (http://www.p2pi.org) is a global association of over 500 companies including the leading consumer product manufacturers, retail chains, agencies and an entire ecosystem of solution providers. The Institute exists to engage and inform its members and the industry at large about best practices that impact all marketing touchpoints. It acts as a conduit for learning, sharing and networking to advance the art and science of marketing on the path to purchase.