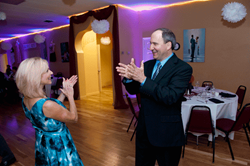 St.Louis, MO (PRWEB) January 27, 2015
Dance Pizazz, the St. Louis area's funnest, friendliest dance studio (http://www.dance-pizazz.com), helps student's everyday with overall well-being. Dancing is a social activity. Social Activities have long been associated with a high sense of well-being. At Dance Pizazz our teachers know that dancing equates to happy students. Dance Pizazz would like to share this wisdom.
Dance Pizazz knows that socializing with friends contributes to high self-esteem and a positive outlook. We work constantly to create a social atmosphere and introduce students to one another. Remembering names is a crucial part in adding to this atmosphere. People like to feel known, and it's also a sign of respect. Doing these few things helps students to increase self-confidence and build social skills.
Overall Well-being would not be complete without less stress and tension, that's why Dance Pizazz strives to create a fun positive environment. Dance Pizazz has weekly and monthly Dance Parties, because physical activity reduces stress and tension, regular dancing gives an overall sense of well-being.
Dance Pizazz knows that it can help anyone achieve a high state of well-being. To learn more about how Dance Pizazz can help with well-being visit http://www.dance-pizazz.com.