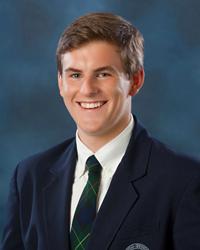 Director of Communications Denise Klavon said, "Clayton has been a tremendous asset to the Kiski community. He is always a leader in the classroom, on the field and in the dormitories."
Saltsburg, PA (PRWEB) January 22, 2015
The Kiski School announced that senior Clayton Hepler of Ligonier, PA, will attend Middlebury College in the fall of 2015, where he plans to play lacrosse. Clayton's academic and athletic accomplishments at Kiski are to be commended.
Hepler is Kiski's Head Prefect for the 2014-2015 academic year. The Head Prefect is the highest leadership position at Kiski. A Prefect is a student who exhibits good judgment and maturity, contributes significantly to the life of the School, assists the faculty in numerous ways, counsels younger students, and helps residential leaders with evening study hall and other responsibilities. Prefects are selected based on their leadership abilities, academic excellence and campus involvement. Not only does Hepler stand-out academically, but he also excels in athletics.
This year is Clayton's fourth year as a starter for Kiski's Lacrosse team. In the 2013 and 2014 spring seasons, the team enjoyed a 41-9 record, ranking fourth in Pennsylvania in 2014 and sixth in 2013. In 2013, as a sophomore, he was named the Defensive Player of the Year. He also participated in both cross-country and swimming. He was co-captain of the 2014 Cross-Country Team and received the Coach's Award for excellence. Hepler will join the Middlebury College Men's Lacrosse team.
The Kiski School is an all-boys boarding school serving grades, 9-12 and post-graduates. For 125 years, Kiski has witnessed a steady, substantial transformation while maintaining an intentional commitment to serving the unique learning needs of boys. Kiski provides an environment in which students can make the most of their potential as they grow in their knowledge of self and learn the mastery of academic disciplines and the value of athletic and artistic endeavors. For more information about Kiski, call 877-547-5448 or visit http://www.kiski.org. or http://www.facebook.com/TheKiskiSchool or https:Twitter.com\TheKiskiSchool.