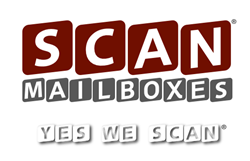 The ability to notarize the postal consent form online is now available...
Austin, TX (PRWEB) January 22, 2015
Traditionally, new customers would receive a copy of the postal consent form, known as the PS 1583 form, which is required by the United States Postal Service to authorize Scan Mailboxes to handle customers' mail. Once this form was notarized, the original was then mailed to Scan Mailboxes in order to activate their online mailbox account. This process could be somewhat of a hassle for those who cannot find a notary service in their area, an especially difficult problem for those overseas.
The ability to notarize the postal consent form online is now available through NotaryCam. It is quick, simple, and environmentally friendly, and can be found at https://www.scanmailboxes.com/onlinenotary. The online notary public will greet you via a secure website that utilizes webcam and live-recording to capture the notary process. The Commonwealth of Virginia recognized the need for this service, and has provided it since July 1, 2012. It is currently the only state in United States that allow this type of transaction, so Scan Mailboxes is on the cutting edge!
The NotaryCam service is usually preferred by customers that are overseas because it is a quick and painless way to complete their postal consent form. Oftentimes, Scan Mailboxes had new overseas customers putting off the notary public service due to the difficulty of locating one or because of the expensive cost associated with the available services. Using NotaryCam service costs a mere $25 in the USA and $79 for international service, making it extremely convenient and cost-effective.
Furthermore, Scan Mailboxes offers a $20.00 credit per mailbox account to help offset the cost of using the NotaryCam service. This offer is valid after sixty (60) days of mailbox service on either using the Premium or Ultimate subscription plan.
When using Scan Mailboxes, customers receive daily emails with scanned images of their front envelopes, while the physical items are held in our on-site secured storage facility. From that point, customers have full control to do as they please with the mail, including:
1) Open and scan the contents
2) Forward the physical mail to any designated address
3) Shred and recycle contents
4) Deposit checks
Scan Mailboxes strongly believes that all customers should be in full control of their mail and its contents. Customers in the Austin area can even stop by Scan Mailboxes' location to pick up their mail at no additional charge! Visit http://www.scanmailboxes.com for more information!