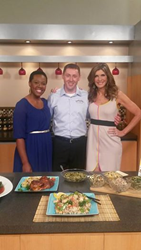 "We really just wanted to make food that families like ours could enjoy,' says Schmidt, 'and with the help of Path of Life's Executive Chef Robert 'Jazz' Martin, we were able to make it a reality."
Warrenville, IL (PRWEB) January 21, 2015
As part of its 'New Year, New You' theme, on January 23rd, The Balancing Act will air a segment on Lifetime TV featuring Scott Schmidt and Alicia Neal from Path of Life brand at 7:00 am EST/PST and 6:00 am CST.
Path of Life is a family-owned, organic and all natural food company headquartered in Warrenville, IL that has achieved significant growth in the past year due to their chef inspired frozen quinoa blends. Currently available at retailers nationwide and club stores, its four frozen quinoa blends are pre-seasoned and packaged in 10oz microwaveable steam bags for fast and easy meal preparation.
Alicia Neal, a Naperville-based mother of three and the Brand Manager at Path of Life is a true believer in the brand. "Even with all the hype about quinoa and its health benefits, there are still moms out there who are unsure about how to serve it to their kids", says Neal. 'Path of Life Quinoas can be easily substituted for rice, which is why it's now a staple in my home. I want other moms to know that with Path of Life, they have more quick and easy options the whole family can enjoy."
Jason Eckert and Scott Schmidt - passionate, co-founders of the brand – have 34 combined years of experience in the food industry and 23 years as parents. "We really just wanted to make food that families like ours could enjoy,' says Schmidt, 'and with the help of Path of Life's Executive Chef Robert 'Jazz' Martin, we were able to make it a reality."
Quinoa is a naturally gluten-free superfood that contains all nine essential amino acids, making it a complete protein. While often mistaken for a grain, quinoa is actually the edible seeds of the leafy Chenopodium plant, a close relative to spinach. Cooked quinoa is a nutritious and flavorful alternative substituted in recipes that include rice, cereals, and other small grains.
"During our segment on The Balancing Act,' says Neal, 'you'll see that you can pull a whole meal together in a few minutes with Path of Life Quinoa. For moms like me who are short on time and skill in the kitchen that means you don't have to compromise a nutritious plate or flavorful meals for you and your family."
Path of Life has recently updated its packaging design and website featuring recipe ideas and tips for each Path of Life product.
The Balancing Act is a weekday morning talk show hosted by Julie Moran and Olga Villaverde geared toward busy moms who are looking for solutions to everyday challenges—including meal times.
The Path of Life Quinoa segment will air on Lifetime this Friday, January 23rd. For more information, please visit http://www.pathoflifebrand.com.
Beginning January 23rd, Path of Life will be offering a sweepstakes on their Facebook page for the chance to win Path of Life food products for an entire year.
About Path of Life
Path of Life is an organic and all natural food company headquartered in Warrenville, IL. Created with the desire to make eating better, flavorful and easy for the entire family, the Path of Life product line currently includes frozen quinoa blends, vegetable side dishes, fruits, and dark chocolate covered fruit.