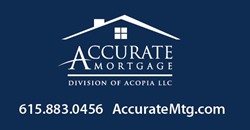 At least 50% of homeowners could see significant savings with a refinance right now, and most are not aware
Nashville, TN (PRWEB) January 22, 2015
The Federal Housing Authority (FHA) recently announced a reduction in the Mortgage Insurance Premium required on a home with less than 80% equity. This, along with the lowest interest rates in 2 years, allows Accurate Mortgage to provide their clients significant savings when they use the Streamline Refinance.
If you purchased or refinanced a home as little as 2 years ago, this program can save you money. The average homeowner with a $200,000 mortgage prior to 2015 paid $216 in PMI (Private Mortgage Insurance). Refinance today and that payment decreases to $141, a savings of $75 each month. Couple that with historically low interest rates and the savings just keep adding up.
"At least 50% of homeowners could see significant savings with a refinance right now," says Joe Stanford, Vice-President of Accurate Mortgage. "And most are not even aware of the potential savings. They think if they refinanced in the last couple of years, they have the best loan program, and today, that simply may not be true."
Accurate Mortgage Group is a local lender in the Middle Tennessee market with local underwriting and greater flexibility in closing loans than the national mortgage companies. They pride themselves on closing loans in 21 days or less, guaranteed, and even closed a loan over the holidays in just 17 days. Chris Phelps, loan officer with Accurate Mortgage explains: "I talked with a borrower who had been turned down by another mortgage company on December 29th and was able to sit across the closing table on January 15th to complete his home purchase."
Locally owned and operated, Accurate Mortgage has served the Nashville area's mortgage needs for nearly 10 years. Mike, Joe and their team of experts provide top notch mortgage services with a real focus on quality customer service.
For more information visit http://www.accuratemtg.com.