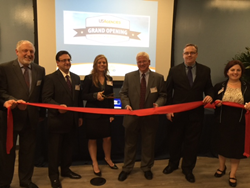 Panel of distinguished speakers and members of USAgencies, make the relocation official with a ribbon cutting.
Baton Rouge, LA., and Plano, TX (PRWEB) January 26, 2015
USAgencies, a leading provider of low cost auto insurance, has moved its operations center to 440 Third Street. One milestone of this relocation is that this landmark building now bears the proud moniker of USAgencies.
USAgencies is excited to be a part of such a historical building and to participate in the efforts to revitalize downtown. It was Davis Rhorer, Executive Director for the Downtown Development District, who stated, "We welcome USAgencies and their employees to Downtown Baton Rouge and the Historic Third Street Corridor. Their commitment and investment within the heart of Louisiana's capital city affirms downtown's position as a place for commerce and economic success."
USAgencies will host a grand opening reception on January 22 from 5:00-7:00 p.m. to celebrate 20 years of business. The event will bring together Baton's Rouge business and community leaders and we are proud to have several distinguished speakers to share in our success and ribbon cutting festivities. Presenters for the event shall include: Davis Rhorer, Executive Director for the Downtown Development District; Warren Byrd, Deputy Commissioner, Office of Property and Casualty for the Louisiana Department of Insurance; Iain Vasey, Executive Director of Business Development for the Baton Rouge Area Chamber.
For 20 years USAgencies has supported the Louisiana and Alabama communities by becoming a champion of youth, education, highway safety, financial literacy, entrepreneurship, economic development, cancer screening, and many other valuable programs that are intended to make a positive impact in the communities served.
Ken Champagne, Baton Rouge resident and General Manager for USAgencies, stated, "USAgencies has a long history of community service. We believe in not just insuring a community, but genuinely being a part of it! We are so excited to continue our tradition of supporting our community."
Robert Bondi, President of Confie Insurance Group Holdings said, "It's exciting to celebrate the growth of this organization and to unite with business and community leaders. This is a proud moment in our company's history."
For more information please visit: http://www.confiegroup.com or http://www.usagencies.com.
About CIGH Inc:
Confie Insurance Group Holdings (CIGH) operates four non-standard insurance agencies in nine states. CIGH is part of Confie Seguros family of brands, which is becoming the fastest growing insurance conglomerate in the nation. These brands include A-Affordable, Driver's Choice, Insure One and USAgencies. In addition, CIGH operates two premium finance companies supporting those agencies. The CIGH family of companies is dedicated to providing insurance solutions using a wide variety of products and carriers to give our customers a superior insurance experience. USAgencies has proudly served the state of Louisiana and Alabama for 20 years and prides itself for providing high quality auto insurance at low prices with a commitment to providing superior customer service.