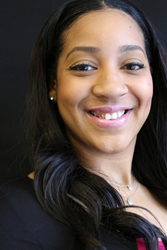 I look forward to meeting the great people that we have working at our local hotels, building relationships with them and helping them meet the needs of sports rights holders
Shreveport, LA (PRWEB) January 22, 2015
The Shreveport-Bossier Sports Commission is proud to announce the hiring of Que'brelyn Hill. Hill, a 2014 graduate of Grambling State University, will join the Shreveport-Bossier Sports Commission team in the role of sports sales and services coordinator. During her time at Grambling State University, Hill majored in kinesiology with a concentration in sports management. She is a Shreveport-Bossier native and recently completed an internship with the Independence Bowl Foundation.
Hill's daily responsibilities include acting as a liaison to connect sporting events with accommodations and other resources. She may be reached by calling (318) 429-0654.
"I look forward to meeting the great people that we have working at our local hotels, building relationships with them and helping them meet the needs of sports rights holders to bring more business to Shreveport-Bossier," Hill said.
About the Company
The Shreveport-Bossier Sports Commission is a division of the Shreveport-Bossier Convention and Tourist Bureau in partnership with the City of Shreveport, City of Bossier City, Caddo Parish Commission and Bossier Parish Police Jury. The commission works to bring government, business, and hospitality partners together to promote and facilitate sporting events that are diverse, create economic impact and enhance the quality of life. This strong team is able to provide the enthusiasm, support and resources necessary for hosting successful events. For more information, visit http://www.shreveportbossiersports.com.