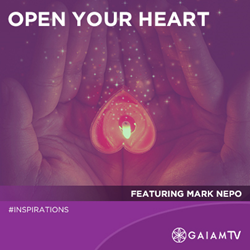 (PRWEB) January 22, 2015
On Thursday, January 22, Gaiam TV will begin airing a very special conversation Mark Nepo recently had with Lisa Garr, host of Gaiam TVs Inspirations with Lisa Garr. Find out what it means to live with an open heart as Mark shares with Lisa some of the soul's deepest and most profound questions about life, and explores his new book, The Endless Practice, and his part in the documentary film, The Power of the Heart.
Sign up to watch Mark's interview with Lisa Garr by clicking here.
(Gaiam TV is a paid service. You can watch Mark's episode and explore the Gaiam TV library by signing up for unlimited access, which is free for 10 days (requires a credit card), and only $9.95/month after that. Be sure to take advantage of the 10-day trial so you can watch the full episode.)
****
Bestselling author Mark Nepo has published fifteen books including his number one New York Times bestseller The Book of Awakening. His recent work includes, The Endless Practice, his latest book of poems, Reduced to Joy, and the documentary film, The Power of the Heart. In the fall of 2015, Inside the Miracle will be published. Mark devotes his writing and teaching to the journey of inner transformation and the life of relationship. He continues to offer readings, lectures, and retreats all over the world. For more information about Mark and his teaching schedule, please visit MarkNepo.com.