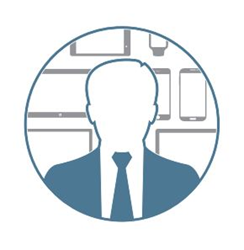 "Ultimately it is a great sign for the future of mobility that enterprises are creating positions focused specifically on driving mobile forward," said Sravish Sridhar, founder and CEO of Kinvey.
Boston, MA (PRWEB) January 22, 2015
As mobile becomes ubiquitous in today's enterprise – via apps, BYOD and the Internet of Things – 75 percent of companies have created roles to unify, manage and deploy mobile strategy across the organization. These new mobile-focused professionals are busy creating the overall mobile strategy, defining the mobile app dev and deployment platform, and measuring mobile's impact and results. A recent independent study, commissioned by leading enterprise Backend as a Service (BaaS) provider Kinvey (http://www.kinvey.com), exposes interesting findings about the nature of this new role and how it fits into the enterprise. The full report can be downloaded here.
The Role of Today's Mobile Strategist
While every organization varies slightly when it comes to the specific role and tasks of the Mobile Strategist, the research demonstrates that the majority focus on strategy, measurement, and development.

47% report their role is to create the overall mobile strategy;
40% focus on measuring mobile's impact and results; and
39% are responsible for creating a development platform.
Mobile Strategist's Goal: Drive Business Impact
In the modern enterprise, mobile often plays many different roles and supports a variety of functions across the organization. When it comes to the Mobile Strategist role, however, the goals for mobile are simple: drive business impact.
Specifically:
76% cite their goal for mobile is to engage customers wherever they are;
75% are looking to create new revenue paths; and
72% have a goal to reduce overall operating costs.
A Troubling Finding: Disconnect between CIO and Mobile Strategist
The research reveals a significant disconnect between two of the organization's most important mobile leaders: the CIO and Mobile Strategist. This is not surprising given that 53% of the new mobile professionals report to the CTO's office instead of the CIO's office. These findings support the new trend towards Bimodal IT, combining the agility required by lines of business to deliver apps with new capabilities quickly with IT's need to deliver rock-solid, secure, consistent and reliable enterprise services.
While the Mobile Strategist and CIO have their own roles and responsibilities, they are both important in driving the organization's mobile agenda forward. But, today's Mobile Strategists don't always feel they are on the same page with the CIO. In fact, nearly 20 percent say the CIO doesn't understand what it takes to develop/deploy an effective mobile strategy. While less than half (47 percent) say they work closely with the CIO, the CIOs paint a different picture altogether, with 81 percent claiming they work closely with the Mobile Strategist.
When it comes to the reasons for not having a formal mobile strategy, these two professional groups offer differing perspectives:
37% of Mobile Strategists cite it's because decision-makers cannot agree while 45% of CIOs claim this to be a problem; and
30% of Mobile Strategists claim to run their mobile campaigns and projects separately while 61% of CIOs cite this as an issue.
"When it comes to developing and deploying a mobile strategy, it's critical for all key players to be on the same page," said Sravish Sridhar, founder and CEO of Kinvey. "The result of having an overarching plan for enterprise mobility is reduced costs, less redundancy, and improved efficiency. It will be important as mobile becomes even more ubiquitous that CIOs, Mobile Strategists, and other executives are all working towards the same goals."
Mobile Report Card: Still room for Improvement
When taking stock across the industry of how others are leveraging mobile, only 22 percent of Mobile Strategists feel their organization is ahead of the curve. While the findings suggest there is still room for improvement within many enterprises, 58 percent feel they are at least "on par" as compared to others, suggesting mobile progress is being made when this new role is in place.
"While there will always be improvements and tweaks to be made, ultimately it is a great sign for the future of mobility that enterprises are creating positions focused specifically on driving mobile forward. The research shows companies are finally recognizing the value mobile can deliver. One thing we can expect to see in 2015 and beyond is continued attention on specific ways enterprises can improve mobile processes, such as through more effective and efficient app development and deployment," adds Sridhar.
To access the full report, please visit: http://www.kinvey.com/mobile-strategist-survey
Methodology
ResearchNow surveyed 100 CIOs and 100 mobile leaders who work at companies with more than 500 employees.
About Kinvey
Kinvey is the leading enterprise Backend as a Service (BaaS) platform that helps enterprises, agencies, and developers launch successful and engaging apps. Kinvey provides comprehensive support for native, hybrid, and mobile Web applications and out of the box enterprise capabilities including identity management, integration with enterprise data sources and a data store and file store for new mobile data, ability to run customized business logic, and a rich set of mobile engagement services. Kinvey runs in a multi-tenant cloud or in a dedicated public or private cloud. On average, Kinvey customers launch applications twice as fast and at half the cost of traditional methods. For more information, visit http://www.kinvey.com.