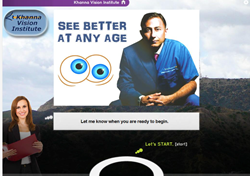 I believe in the spreading of knowledge.
Beverly Hills (PRWEB) January 28, 2015
The Khanna Vision Institute is pleased announce a new app that helps people select the best vision correction procedure for their eyes. This app provides information about Lasik and refractive eye surgery, SuperLasik, Pi in Eye, Visian ICL and more. The app also helps one understand the best option based on age, eye prescription and lifestyle. Lack of information and fear have prevented many people from gaining better vision. "Our aim is to spread unbiased information to allow people to choose an option beneficial for them," said Dr.Khanna.
This app is available at no cost across all platforms – online, on the iTunes app store (for iOS devices) and on the Google Play store (for Android devices). Dr. Khanna has been overjoyed that this app has already received great reviews on Google Play.
Dr. Khanna has been helping spread education about vision through various channels. His critically acclaimed book, "The Miracle of Pi in Eye," is available on Amazon. He also hosts a TV show titled "Medical Magic" on Firstrun TV. As a columnist for various newspapers and magazines, he is able to educate people on various health topics. Some of these newspapers are Acorn, the Moorpark Star and the Santa Monica Observer.
"I believe in educating the public on health issues. This new app is one such tool which can empower the common man," said Dr.Khanna. He has also been hosting interactive radio shows in Los Angeles. People can call in their questions to clear their doubts. "Hangout with Laserman" allows a person from anywhere in the world to post their queries to Dr. Khanna on Google hangouts. He is also active in the community supporting charitable organizations like the Impact Foundation and Wounded Warrior project.