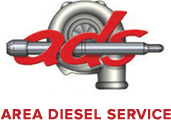 Joanna Lewis exemplified the excellent customer service qualities we demand of the entire Area Diesel Service team.
Des Moines, Ia. (PRWEB) January 22, 2015
Area Diesel Service, Inc. announced this week that, after more than 26 years with the company, Inside Sales Representative Joanna Lewis has retired. Lewis joined Area Diesel Service in the Inside Sales and Shipping department on Nov. 4, 1988 and has played an important role for the company through much of its growth. "Joanna has been essential to our team, and beyond doing her job so well, she's just been terrific to work with every day. We're going to miss seeing her smiling face at the shop," said Iowa Branch Manager Corey Stallings.
In one capacity or another, Lewis has helped Area Diesel Service sell and ship diesel power products, performance modules and diesel engine parts throughout her career with the company. Her primary duties have centered on handling remote sales, a role that Stallings noted perfectly fit Lewis's naturally friendly personality and attentive approach to customers' needs. He added, "because Joanna is meticulously detail-oriented, we also leaned on her for clerical work, accounting and inventory management in the Sales and Shipping department."
As a leading supplier of innovative diesel performance parts, Area Diesel Service insists each sales representative provide excellent customer service and offer knowledgable answers to customers' questions. "Joanna exemplified those qualities and served as a great example to our entire sales staff," said Area Diesel Service Founder and President Val Leefers. He also mentioned that Lewis maintained strong relationships with dealers and other long-term customers, getting to know about their individual ordering habits and then anticipating their needs. "That kind of service," said Leefers, "is exactly what I have promised since opening shop in 1973."
Lewis joined Leefers and Area Diesel a few years after the company began offering quality parts for diesel service from its second location, just outside Des Moines, Ia. Since then, Area Diesel has steadily grown and currently employs more than 40 full-time diesel specialists, factory-trained technicians and sales representatives. Lewis was especially helpful, said Stallings, in keeping the daily operations running smoothly during the recent renovation to the Iowa branch, which involved a complete overhaul to equip Area Diesel technicians with everything needed for diesel repair and performance upgrades, via fuel modules or turbochargers, on engines ranging from agricultural equipment to semi-trucks to recreational diesel trucks.
After all those years helping Area Diesel Service grow into an industry leader, Lewis is not worried about getting bored with retirement: "I've got plenty to keep me busy, starting with the apartment complex my husband Dell and I manage. I'll also love having more time with my family, including my two beautiful great-grandkids. I'll sure miss seeing everyone at Area Diesel, though." Stallings had one final note about Lewis retiring: "Val, his son Von, I and the many other people at Area Diesel just want to tell Joanna 'thanks for all the great years together! It's been a pleasure."
For more information on Area Diesel Service or their diesel engine parts, visit areadiesel.com or contact Corey Stallings at CoreyS(at)areadiesel.com. To keep up with the latest on diesel performance parts and power products, follow Area Diesel Service on Facebook, Google+ and Twitter.