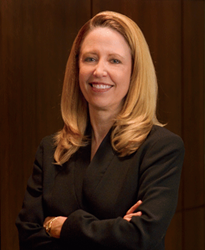 I am proud to be a member of a firm that is such a prominent force in the environmental law field.
Dallas, Texas (PRWEB) January 22, 2015
Leading Environmental Law Boutique Announces New Shareholder
Guida, Slavich & Flores, P.C. is pleased to announce that Sally A. Longroy has been named a Shareholder in the firm's Dallas office. Her environmental practice primarily involves assisting clients with the negotiation and structuring of real estate, corporate, and capital transactions involving contaminated property, due diligence, remediation matters, brownfield redevelopment, and risk management.
"It is an honor to work with Sally who is a recognized and dedicated attorney," said Joe Guida, managing shareholder at Guida, Slavich & Flores. "Her talent, experience and commitment to providing quality legal services are an exceptional benefit to our clients."
Longroy's practice also includes advising clients on environmental regulatory matters where she helps them comply with complex environmental laws. She has extensive experience in dealing with solid and hazardous waste, hazardous substances, water, and pesticide issues. She has also defended enforcement actions brought by the Environmental Protection Agency and Texas Commission on Environmental Quality, typically in the administrative context.
"I am proud to be a member of a firm that is such a prominent force in the environmental law field," said Longroy. "I look forward to being more involved in the continued success and growth of our practice."
Prior to joining Guida, Slavich & Flores as Of Counsel in 2010, Longroy was a partner at Carrington, Coleman, Sloman & Blumenthal, LLP. Before entering private practice, she was an analytical chemist and regulatory affairs manager with extensive experience in regulatory programs governing the registration and manufacturing of pesticides and animal drugs. She is the 2015 president of CREW Dallas (Commercial Real Estate Women), has been listed in The Best Lawyers in America in the Environmental Law practice area since 2007, is a Martindale Hubbell AV rated attorney, and a noted writer and lecturer. Longroy received her J.D., cum laude, from Southern Methodist University Dedman School of Law, an MBA from Southern Methodist University and a B.S., with distinction, from the University of Michigan.
Guida, Slavich & Flores, P.C., with 13 attorneys located in Dallas and Austin, is a powerhouse environmental boutique law firm providing legal representation to businesses and individuals in the planning, strategy-setting and execution of their environmental business objectives within the complex maze of environmental laws, including regulatory compliance counseling, structuring and negotiation of contaminated property transactions, and litigation.