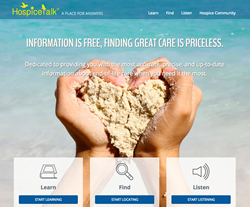 HospiceTalk was created by hospice care professionals, educators and families to answer those important questions relating to end-of-life care.
Aliso Viejo, CA (PRWEB) January 23, 2015
End-of-life care is a conversation that many people try to avoid. This discussion is never easy, but it is a reality for many families. According to the Hospice and Palliative Care Organization there are over 2 million patients whom need hospice care each year. Finding answers to important end-of-life questions can be difficult, confusing and painful – and many families don't know where to turn to find the correct information. HospiceTalk is a place for answers.
HospiceTalk is an innovative new information portal that allows families to get answers to all their questions about hospice, directly from people working in the field. The organization is dedicated to providing the most accurate, precise and up to date information about end-of-life care when people need it the most.
HospiceTalk provides in-depth resources for families, including hospice news, statistics, organization ratings, HIPAA compliance, and video broadcasts from the biggest names in the industry. HospiceTalk also allows users to locate a hospice or palliative care provider in their area.
Michael Heximer, HospiceTalk Founder, is an entrepreneur with more than 25 years of experience working with and in the healthcare and hospice industry. After starting two successful health care companies, Michael recognized a need in the marketplace for readily available, up-to-date information for the public about hospice care. Michael used his intimate knowledge of running a hospice and palliative service organization, along with anecdotal evidence gathered from years of working with families, patients and other hospice organizations to develop HospiceTalk.
"HospiceTalk was created by hospice care professionals, educators and families to answer those important questions relating to end-of-life care," says Heximer. "At HospiceTalk, we know this is one of the most difficult times in anyone's journey and our goal is to be compassionate, caring, relevant and up-to-date with our answers."
HospiceTalk's unique structure is also a benefit to hospice business owners who want to spread the word about their services. The hospice directory on the site is populated exclusively by reputable organizations that have been screened, and share the company's mission to provide the best, most compassionate care possible.
Hospices apply to join the directory and create an exclusive page where the public will be able to read, listen, and view videos about their hospice. Hospice owners will also have access to industry specific vendors through the site who will help them streamline their operations and raise their standard of care.
About HospiceTalk
HospiceTalk is an innovative website where families dealing with end of life issues can get answers about hospice care from industry professionals who work in the field. For more information on HospiceTalk find us at: http://www.hospicetalk.com.
Connect with HospiceTalk at:
Facebook: https://www.facebook.com/HospiceTalk
Twitter: https://twitter.com/HospiceTalk
LinkedIn: https://www.linkedin.com/company/hospicetalk
Google +: https://plus.google.com/112273894000891206886