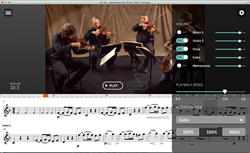 Technology shouldn't just be teaching us notes, but helping us express ourselves through music.
Durango, CO (PRWEB) March 03, 2015
Sit-ins is introducing technology that provides a new way for musicians of all levels to enjoy the benefits of playing with others in a musical ensemble. While sheet music and various products on the market focus on learning notes, Sit-ins focuses on a beautiful, immersive playing experience. The outcome is that they become more expressive and inspired musicians.
"Until now, this kind of learning and playing was only available for a few," said co-founder and composer James Bowers. Now, by marrying technology and art, everyone can experience the growth that playing with master musicians offers."
The technology has recorded live performances with each instrument isolated making them available for playback in any combination. For example, a string quartet player can:

take over first violin by muting it and playing along with the other instruments
play along with only the first violin by muting the other instruments
study the inner voices by muting the first violin and cello
The video of the live performances allows the user to:

see the communication between the players
learn visual cues used by master artists
feel like you are part of the ensemble
The scrolling notation of the instrument of your choice allows the user to:

view notation for any instrument
read without having to turn pages
Printable pdf's of the full score and individual parts are available for:
live performances
personal annotations
score study
To give the musician ultimate control, Sit-ins allows users to slow down the tempo without changing the pitch. Sections can also be looped. With recently recorded music from top ensembles in Budapest, the sessions were videotaped live to capture all of the passion and spontaneity of master players.
"When people play with our technology, they feel challenged to step-up," said Lily Weisbecker, co-founder of Sit-ins. "They are engaged so they play longer. They make mistakes freely without fear of embarrassment which is an incredible way to learn."
Musicians can download Sit-ins immediately on the website at no cost. The available repertoire features music from esteemed classical composers such as Haydn, Mozart, Beethoven and Bach.
About the Company
Inspired by the idea that technology shouldn't just be teaching us notes, but helping us express ourselves through music, James Bowers put his lifetime of music and technology to work to invent Sit-ins. Aided by the start-up accelerator program, SCAPE, in SW Colorado, the company was founded in February 2014 and began sales the following December.