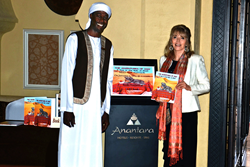 " My books are about building a strong self-concept, accepting who we are and the knowledge that we are special. It is okay to be different, important to be kind, acceptable to have fears.
Sarasota, Florida (PRWEB) January 22, 2015
Sarasota book author/illustrator Candace Carson knew she was onto something when she first visited the Rub'al Khali in 2012 - the largest continuous sand desert in the world, encompassing most of the southern quarter of the Arabian Peninsula.
It was there that she realized its mystical qualities would be the basis for her sixth children's book, called The Adventures of Sigi: A Day in the Rub'al Khali, that chronicles a journey taken by a Floridian miniature Schnauzer named Sigi, who visits his cousin, Matar – a Saluki dog who lives in a desert near the Arabian Sea. The journey includes many animal characters they meet along the way, including breeds of desert animals he thought he'd never befriend, nor appreciate and accept. The book is a poignant lesson of tolerance, acceptance, and good will.
The Rub'al Khali is one of the least explored areas on earth. Rub'al Khali – otherwise known as "The Empty Quarter" - was so named because it was once thought to be devoid of life. In fact, expeditions in 2006 found 31 new plant varieties and 24 species of birds inhabiting the region along with animal species which include camels, the sand fox, gazelles, sand cats, Cape hares and oryxes.
Carson, who lived extensively in international countries when growing up as a young girl, moved to Sarasota in 2008 to make it her permanent home. "When I first visited the desert in Rub'Al Khali a few years ago, I fell in love with it for many reasons, the breathtaking panorama of soft red sand layered with strains of cobalt blue and white, the boundlessness of the terrain and the quiet stillness," says Carson. " The desert is beautiful in its solitude and magical with its hidden life surviving one of the harshest climates on earth," says Carson. "It engulfs you and fills you with a sense of awe. It is one of the most magnificent places on our planet. I knew it would be an ideal setting for one of my children's books."
And apparently the Anantara desert resort did, too. A five star resort and the recipient of numerous luxury hotel awards, Qasr al Sahab Resort and Spa in the United Arab Emirates invited Candace as their guest for a New Year's celebration and book signing on January 2, 2015. The book signing drew hundreds of international guests visiting the resort who were intrigued by the theme. It is the first children's book about the Rub'al Khali desert. "We were honored to have an American book author at our hotel, especially one who appreciates the remarkable otherworldly beauty of this special place.," said Patrick Both, GM of Qasr al Sahab.
"This book and the Adventures of Sigi series is particularly timely in the education of children about the diversity of peoples, their culture, religions, and geography," says Candace. "My books are about building a strong self-concept, accepting who we are and the knowledge that we are special. It is okay to be different, important to be kind, acceptable to have fears. We all make mistakes, but strive to be better to those around us. Self-confidence is something that everyone needs and if you have it, you can tackle any challenge that life offers. The people of the United Arab Emirates practice hospitality, generosity, good manners and consideration of others. I have visited three times and have always been treated as an honored guest."
A Day in the Rub"al Khali (2014, published by Ingram Book Company in hardcover and softcover) is the sixth in the series of The Adventures of Sigi series launched in 2009. Books available at Amazon and Barnes and Noble.
About the author:
Candace Carson has BA's in Psychology and Fine Arts and a MFA in Painting and Drawing. She is the recipient of two National Endowment of the Arts Fellowships. She writes and illustrates all her books. When not immersed in writing and illustrating, Candace works at the Sarasota Ringling Museum of Art and cares for her two miniature Schnauzers, Sigi and LuLu.