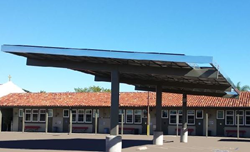 St. Patrick Catholic Parish is making an impact locally, and will hopefully inspire other churches to go solar.
San Diego, CA (PRWEB) January 22, 2015
St. Patrick Catholic Parish in North Park recently declared energy independence with a 26,965-watt solar shade structure and roofmounted solar power system. Local firm Sullivan Solar Power designed and installed the solar installation, which will assist St. Patrick Catholic Parish in saving $160,871 over the next 20 years, while reducing greenhouse gas emissions by 2.2 million pounds.
"St. Patrick Catholic Parish is taking a leadership role in the Diocese of San Diego by going solar and doing their part to help preserve our Earth," said Daniel Sullivan, founder and president of Sullivan Solar Power, "They are environmental stewards who are responding to Pope Francis' wake-up call to combat global warming."
At a speech in Rome last year, Pope Francis has expressed the need to change our habits to avoid potentially catastrophic effects of global climate change, and has called humanity's destruction of the planet a sinful act.
"Our Earth needs constant concern and attention. Each of us has a personal responsibility to care for creation, this precious gift which God has entrusted to us," said Pope Francis, "Respect for nature also means recognizing that man himself is a fundamental part of it."
A simple way to help preserve Earth is reducing greenhouse gas emissions, and by going solar, residents and businesses reduce consumption of fossil fuels while getting the perk of offsetting their electric bills. Father Michael McFadden, Pastor of St. Patrick Catholic Parish, played an instrumental role in getting solar at the parish. He sees solar as a no-brainer and a wise investment environmentally, financially and religiously.
"For me, it makes sense. We live on the planet together. We have to work together so that it is a viable planet. I believe that God is saying, "Please take care of it. It's fragile,'" said Father Michael.
The solar power installation for St. Patrick Catholic Parish is divided into two solar power arrays. One is a shade structure in the parking lot connecting St. Patrick Catholic Parish and St. Patrick's School, and the other is a roofmounted solar power system on the roof of the school. Father Michael is coordinating educational solar classes and projects for St. Patrick's School to work with Sullivan Solar Power to educate the kindergarten class and middle school students about solar power.
"The second reason solar made so much sense for us is that it will, in the short and long run, help the School and help the Parish, which I believe are joined at the hip," said Father Michael.
In addition to the savings, St. Patrick Catholic Parish is receiving a $23,926 nonprofit rebate for the solar power installation through the California Solar Initiative, which reduced the parish's out-of-pocket cost for the solar power system. Sullivan Solar Power used 123 Kyocera Solar modules, the most locally sourced solar modules available to San Diego, and American-made SMA America inverters for the solar project. Using local products for the project was very important to Sullivan Solar Power and St. Patrick Catholic Parish to avoid the environmental impact of shipping products across the globe.
"St. Patrick Catholic Parish is making an impact locally, and will hopefully inspire other churches to go solar," said Sullivan, "The Lord has blessed us with the resources we need to live a sustainable lifestyle, and it is a matter of choice as to whether we use those resources wisely, like solar energy, to show we are worthy and thankful for these blessings."
To learn more about St. Patrick Catholic Parish, visit http://www.stpatrickschurchsd.weconnect.com. To learn more about this solar power installation or to request a free quote for solar power, call 1-800-SULLIVAN or visit http://www.SullivanSolarPower.com.
About St. Patrick Catholic Parish
The church of St. Patrick's in the community of North Park of the Roman Catholic Diocese and City of San Diego, declared their primary mission to come together to celebrate the Eucharist, hear God's word proclaimed, give praise and thanksgiving to God, and develop a personal relationship with Jesus Christ. They believe that by freely sharing faith, talents, and treasures, we discover Christ's presence among us and bring Him to others. They have a strong desire to give and receive love, service, peace, support, and fellowship, within our families, our parish, our community, and the world. Open to the power of the Holy Spirit, they pursue this mission faithfully and lovingly. For more information, visit http://www.stpatrickschurchsd.weconnect.com.
About Sullivan Solar Power
Sullivan Solar Power is a turnkey solar system provider that delivers solar electric projects from concept to completion. The company has installed over 19,400,000-watts of solar power ranging from small-scale residential to large-scale commercial and municipal systems. Sullivan Solar Power is headquartered in San Diego, Calif. and owned and operated by Daniel Sullivan. Sullivan Solar Power has a longstanding A-plus rating with the Better Business Bureau, with no complaints filed since the business began. The firm has been named one of the fastest growing energy companies in the nation by Inc. Magazine for three consecutive years and services all of Southern California. Regardless of project size and scope, Sullivan is committed to delivering the best products and the most qualified professionals to its customers. Visit http://www.sullivansolarpower.com for more information.