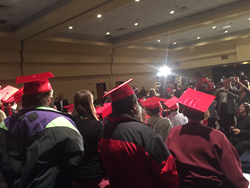 Arc University is a safe environment for individuals with intellectual and developmental disabilities such as Down syndrome, Autism, and Cerebral Palsy among others, to feel safe and not be afraid of their disability
Denver, Colorado (PRWEB) January 22, 2015
Arc Thrift Stores, through a $100,000 grant from The Daniel's Fund, graduated its third class of Arc University students on Wednesday, January 21st, 2015. The Arc University degree program was developed in 2012 with the purpose of imparting important communication, education, socialization and life skills to individuals with intellectual and developmental disabilities. Certificates of Participation to Doctorate Degrees were awarded to 123 individuals.
Arc University is a 12-month program, which consists of monthly sessions covering various topics such as financial management, health advocacy and personal safety, time management, art history, and entrepreneurialism. The program is managed much like a university curriculum and includes lecturers, course work, study guides, and tests.
"The peer-to-peer involvement is of paramount importance to the success of this program. Arc University is a safe environment for individuals with intellectual and developmental disabilities such as Down syndrome, Autism, and Cerebral Palsy among others, to feel safe and not be afraid of their disability," stated Lloyd Lewis, President and CEO, Arc Thrift Stores.
One such individual is class valedictorian, Heather Pyle. Heather is a native Coloradoan and was born at St. Joseph's Hospital with Turner's syndrome and Partial Trisomy Three. At three-years of age, Heather suffered a stroke. Heather persevered and overcame these obstacles and eventually graduated from Pomona High School. She attended Jefferson County Transition program, Red Rocks Community College, and started with Arc University in 2014. Heather loves to sing and has performed in the musical theatre group Magic Moments. She is currently taking voice lessons and hopes to perform with theatre companies in the Denver area. Heather works at Arc Thrift Stores and volunteers at Children's Hospital Colorado. Heather's primary goal in attending Arc University was to learn the life skills needed to eventually live in her own apartment.
During the 2014 session, students also explored the Littleton Museum, where they learned about WWII and explored their creative side by making ceramics in a special pottery class held at The Link in Lakewood.
Several Denver-area businesses and professional leaders donated their talent in the classroom during the 2014 session. Anschutz Medical students educated "Arc U" students on managing health emergency situations. Officers from the Denver Sheriff's Office taught students self-protection and how to mitigate risky situations. Arc Thrift Stores President and CEO, Lloyd Lewis, provided a room full of aspiring entrepreneurs the basics of establishing and managing a business.
Angie Austin, host of Daybreak USA delivered the commencement speech and former First Lady of Colorado, Frances Owens, Community Relations Director for Arc Thrift Stores, was the master of ceremonies.
About Arc Thrift Stores: Arc Thrift Stores operates 22 thrift stores and 12 "donation stations" throughout Colorado. It provides funding to Arc Chapters, which in turn provide advocacy for people with intellectual and developmental disabilities. Arc Thrift Stores is one of the largest employers of individuals with developmental disabilities in the state of Colorado.