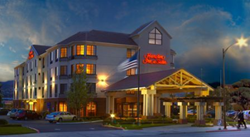 "The message that we want to convey is that travel can be stress free...."
San Francisco, CA (PRWEB) January 23, 2015
Greenbee Parking, one of the fastest growing airport parking brands in the country, has announced a whole new set of San Francisco airport parking rates that promise further discounts for their customers here. Traveling has become more expensive than ever and every single bit of discount goes a long way to ease the budget. Ever since their inception, the young company has been very focused at easing the parking burdens for travelers. With the upcoming travel season and new influx of travel waiting to happen, this announcement has come as a welcome gift for those frequenting the busy San Francisco (SFO) airport.
"The message that we want to convey is that travel can be stress free and parking doesn't have to be a burden every time," said Christine Cooper – Marketing Coordinator, Greenbee Parking. "That's the reason we offer so much more than just a parking spot. We are constantly working out the best possible options for our customers by studying the changing travel trends and the needs of travelers accordingly. The new cheap San Francisco airport parking rates will ensure a more peaceful travel for the large number of travelers this season without pinching their pockets."
San Francisco Airport Parking Information
San Francisco (SFO) airport is one of the 25 busiest international airports which serve over 41 million passengers annually. With non-stop services to over30 international and over 75 domestic locations, it conveniently connects travelers from here to all parts of the world. San Francisco itself is one of the most visited places in the world which brings in as much inbound traffic as it contributes to the outbound flow. The city and its neighboring areas are known for their intrinsic scenic beauty as well as for being the commercial, financial and industrial hot spots. This means that along with tourist influx there is also a lot of business travel to and fro, thus adding to the volume. The airport has been seeing a heavy increase in business flow over the years which has in turn led to many upgrades in the features, ,including parking. Now there are also private players like Greenbee Parking which has stepped in to handle some of the volume and complement the traveler experience for this busy airport. Their discounted San Francisco airport parking rates augur well for the upcoming holiday season travel.
The Greenbee Airport Parking Solution
Greenbeeparking.com is the connection between consumers and parking vacancies in close proximity to major airports and seaports. The parking spaces are very affordable because the company has negotiated discounted rates with major hotel chains for the parking spaces that are not currently occupied. Here's how it works.
Greenbee Parking puts the available inventory of parking spaces on their website to be reserved by business and leisure travelers looking for cheap airport parking. This alternative method for finding parking equates to significant savings for the traveler. You can learn more about their offers from (http://youtu.be/RWc3dqhugFA).
About Greenbee Parking
Greenbee Parking is the nation's most innovative long term parking company, with a new way of making long term parking affordable. The company is rapidly adding new airports to its network.