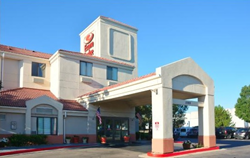 "This is yet another step towards making parking easy and affordable for all our customers...."
Denver, CO (PRWEB) January 26, 2015
Greenbee Parking has just gotten into a strategic partnership with Econo Lodge near the Denver (DEN) airport. This partnership will now allow all Greenbee customers to choose from a wider range of parking facilities and that too at discounted Denver airport parking rates. The young company has been formed with the sole intention of making parking easy for travelers across North America. To this end they have come up with several innovative plans and options for travelers, which enable them to get the best possible deal every time. Their partnerships, like the one with Econo Lodge, are yet another method to ease parking woes effortlessly and without compromising on the quality of service. Those traveling to and from Denver can go ahead and pre-book a secure spot for their vehicles at the lodge and then take the free shuttle to the airport in peace.
"We are very pleased to announce our partnership with Econo Lodge here in Denver," said Christine Cooper – Marketing Coordinator, Greenbee Parking. "This is yet another step towards making parking easy and affordable for all our customers using the Denver (DEN) airport. But more than that it is a part of our long term goal to ensure that airport parking is no longer considered a hassle by travelers who are looking for freedom from the stress, as well as the additional expense. We hope that the new parking options and the much cheaper Denver airport parking rates will portray our vision more effectively. "
Denver Airport Parking Information
Denver International Airport ranks as the largest US airport in terms of the total area with the longest public use runway in the country. With non-stop service to all the continents and major global destinations, it is one of the most well-connected airports and is positioned among the top 15 busiest airports of the world. It witnessed 52,556,359 passenger footfalls in 2013 which just goes to show its increasing business volume. The airport authorities are focused at improving their features and ensuing even better traveler experience here, perhaps a reason why they have been consistently voted as the "Best Airport" and "America's Best Run Airport" by Business Traveler Magazine and Time Magazine respectively. Among their other features they have also seen a marked modernization and expansion in their parking facilities. Now they also have private players like Greenbee Parking that has joined hands with the public parking system. This and their strategic partnerships have opened up even more options for travelers here and that too at very affordable Denver airport parking rates.
The Greenbee Airport Parking Solution
Greenbeeparking.com is the connection between consumers and parking vacancies in close proximity to major airports and seaports. The parking spaces are very affordable because the company has negotiated discounted rates with major hotel chains for the parking spaces that are not currently occupied. Here's how it works.
Greenbee Parking puts the available inventory of parking spaces on their website to be reserved by business and leisure travelers looking for cheap airport parking. This alternative method for finding parking equates to significant savings for the traveler. You can learn more about their offers from (http://youtu.be/RWc3dqhugFA).
About Greenbee Parking
Greenbee Parking is the nation's most innovative long term parking company, with a new way of making long term parking affordable. The company is rapidly adding new airports to its network.