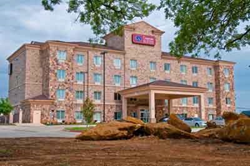 "Our motto is to offer great service at a great price for all our customers..."
Dallas, TX (PRWEB) January 28, 2015
Greenbee Parking, a growing airport parking service, has just declared that their customers using the busy Dallas (DFW) airport can avail greater discounts for parking. With these new and affordable parking rates, travelers can expect to save more on their parking expenses, even without DFW airport parking coupons. The young company has been working tirelessly to offer their customers secure and easy parking options that will ease their parking hassles and take care of their vehicles while they travel. The objective is to provide complete and stress free parking at affordable rates that will not create any visible dent in the travel budgets, especially for frequent travelers. With their year round cheap rates, they ensure that one can enjoy the benefits that they offer without looking for extraneous support like the coupons.
"Our motto is to offer great service at a great price for all our customers," said Christine Cooper – Marketing Coordinator, Greenbee Parking. "To this end we have devised various deals and packages that will take care of the different parking needs, be it short term or long term. We don't want anyone to miss out on the amazing opportunities that we have to offer. That is why we designed our rates to be so competitive; one can simply book ahead without having to look for DFW airport parking coupons to save some money. With us, they save all the time anyway."
DFW Airport Parking Information
The DFW International Airport ranks as the 4th busiest airport in the United States and 8th busiest in the world. It connects with over 200 international destinations and all leading domestic cities. It boasts of seven runways, 155 active gates and five terminals which makes it one of the highest capacity airports in the world. It is the biggest hub for American Airlines and has terminals A and C dedicated to serve American Airlines passengers exclusively. The bust airport sees a huge flow of traffic for business as well as leisure purposes, with increasing volume every day. It is known as one of the most customer friendly airports with authorities here working tirelessly to improve on customer experience every day. The airport is quite well-connected to downtown Dallas and Fort Worth via rail lines (through Trinity Railway Express - TRE), the Dallas Area Rapid Transit or DART, through taxis and rental cars. Of course, true to the American way individually driven cars add most to the traffic which is the reason why the airport has expanded its parking options big time in recent past. It also showcases private parking options from names like Greenbee Parking who have contributed immensely by offering more affordable and expanded options without DFW airport parking coupons to save the day.
The Greenbee Airport Parking Solution
Greenbeeparking.com is the connection between consumers and parking vacancies in close proximity to major airports and seaports. The parking spaces are very affordable because the company has negotiated discounted rates with major hotel chains for the parking spaces that are not currently occupied. Here's how it works.
Greenbee Parking puts the available inventory of parking spaces on their website to be reserved by business and leisure travelers looking for cheap airport parking. This alternative method for finding parking equates to significant savings for the traveler. You can learn more about their offers from (http://youtu.be/RWc3dqhugFA).
About Greenbee Parking
Greenbee Parking is the nation's most innovative long term parking company, with a new way of making long term parking affordable. The company is rapidly adding new airports to its network.