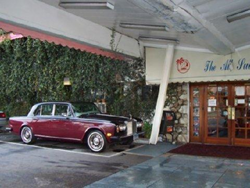 "....our sole focus is on pampering our customers..."
Los Angeles, CA (PRWEB) February 02, 2015
Greenbee Parking, a leading new airport parking service, has just received a pat on the back by travelers using their service at the Los Angeles (LAX) airport. In the latest LAX airport parking reviews, the young brand has been applauded for their easy and quick booking options, their robust customer support, their user-friendly website and last but not the least, their affordable parking rates. Even though they are a relatively new entrant to the industry, Greenbee has already revolutionized the parking experience with their innovative approach. Their state-of-the-art customer service ensures a quick booking even at the nth hour and always at an affordable price. They have made it easy for their customers to expect a great spot and avoid the usual airport traffic nightmare every time they travel.
"We are not competing with anyone else here as our sole focus is on pampering our customers," said Christine Cooper – Marketing Coordinator, Greenbee Parking. "That's exactly the agenda we have in mind and the core logic behind every new deal we design. We are deeply humbled by the LAX airport parking reviews. We feel even more motivated to come up with new ideas and features that will help us serve our customers in Los Angeles better."
Los Angeles Airport Parking Information
Los Angeles (LAX) International Airport is one of the leading airports in the world, in terms of business volume, passenger footfalls and cargo transactions every year. As one of the busiest of airports, LAX is constantly handling a steady flow of passengers through its 680 daily domestic and 930 international flights per week. With over 65 million travelers using this airport, the term "Gateway to the Pacific Rim" is quite apt for LAX. Therefore, the demand for more parking is an ever present phenomenon. While the authorities have done an excellent job, private service providers like Greenbee Parking have stepped in to complement the existing facilities with extra parking options. Their affordability and high quality of service has been much appreciated by LAX travelers, as is evident by the latest LAX airport parking reviews.
The Greenbee Airport Parking Solution
Greenbeeparking.com is the connection between consumers and parking vacancies in close proximity to major airports and seaports. The parking spaces are very affordable because the company has negotiated discounted rates with major hotel chains for the parking spaces that are not currently occupied. Here's how it works.
Greenbee Parking puts the available inventory of parking spaces on their website to be reserved by business and leisure travelers looking for cheap airport parking. This alternative method for finding parking equates to significant savings for the traveler. You can learn more about their offers from (http://youtu.be/RWc3dqhugFA)
About Greenbee Parking
Greenbee Parking is the nation's most innovative long term parking company, with a new way of making long term parking affordable. The company is rapidly adding new airports to its network.