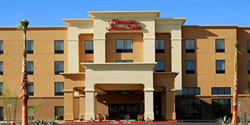 "At Greenbee we are dedicated to making the parking experience extraordinary for all our customers."
Las Vegas, NV (PRWEB) February 04, 2015
Greenbee Parking, a young and rising parking brand, has announced a major slash in their fees for travelers using the Las Vegas (LAS) airport. With their innovative offers they have already created major waves in the industry. From the discounted long term bookings to quick and affordable short term solutions, they have been able to provide answers to all kinds of parking needs. Their initial offers were received with a bang and since then the young brand has come up with constant surprises for their customers. They keep their customers and the public apprised of these changes through the regular upgrades to their web presence. In the latest one, they announced a major reduction in the Las Vegas airport parking rates which is welcome news indeed for travelers here.
"At Greenbee, we are dedicated to making the parking experience extraordinary for all our customers, said Christine Cooper – Marketing Coordinator, Greenbee Parking. "We are constantly working out new strategies and partnerships in order to make this experience even better. We believe that a secure and easy parking solution can be affordable and it is this mantra that makes us grow and succeed."
McCarran International Airport (Las Vegas) Parking Information
The McCarran International Airport ranks as the 6th busiest airports in the nation which serves over 40 million passengers on an annual basis. Like everything else in Vegas, this airport is also built to dazzle and entertain. You can feel the excitement right from the moment you step in with the giant slot machines luring one to gamble a bit and get into the atmosphere that is quintessentially Las Vegas. Located close to the Las Vegas strip as well as the business district, the airport handles quite a large volume of business travelers along with the steady flow of tourists round the year. The authorities have been working tirelessly to improve the infrastructure and offer state of the art airport experience to all travelers here. They are now being assisted in this endeavor by service providers like Greenbee Parking who have helped expand the parking options at very affordable Las Vegas airport parking rates.
The Greenbee Airport Parking Solution
Greenbeeparking.com is the connection between consumers and parking vacancies in close proximity to major airports and seaports. The parking spaces are very affordable because the company has negotiated discounted rates with major hotel chains for the parking spaces that are not currently occupied. Here's how it works.
Greenbee Parking puts the available inventory of parking spaces on their website to be reserved by business and leisure travelers looking for cheap airport parking. This alternative method for finding parking equates to significant savings for the traveler. You can learn more about their offers from (http://youtu.be/RWc3dqhugFA).
About Greenbee Parking
Greenbee Parking is the nation's most innovative long term parking company, with a new way of making long term parking affordable. The company is rapidly adding new airports to its network.